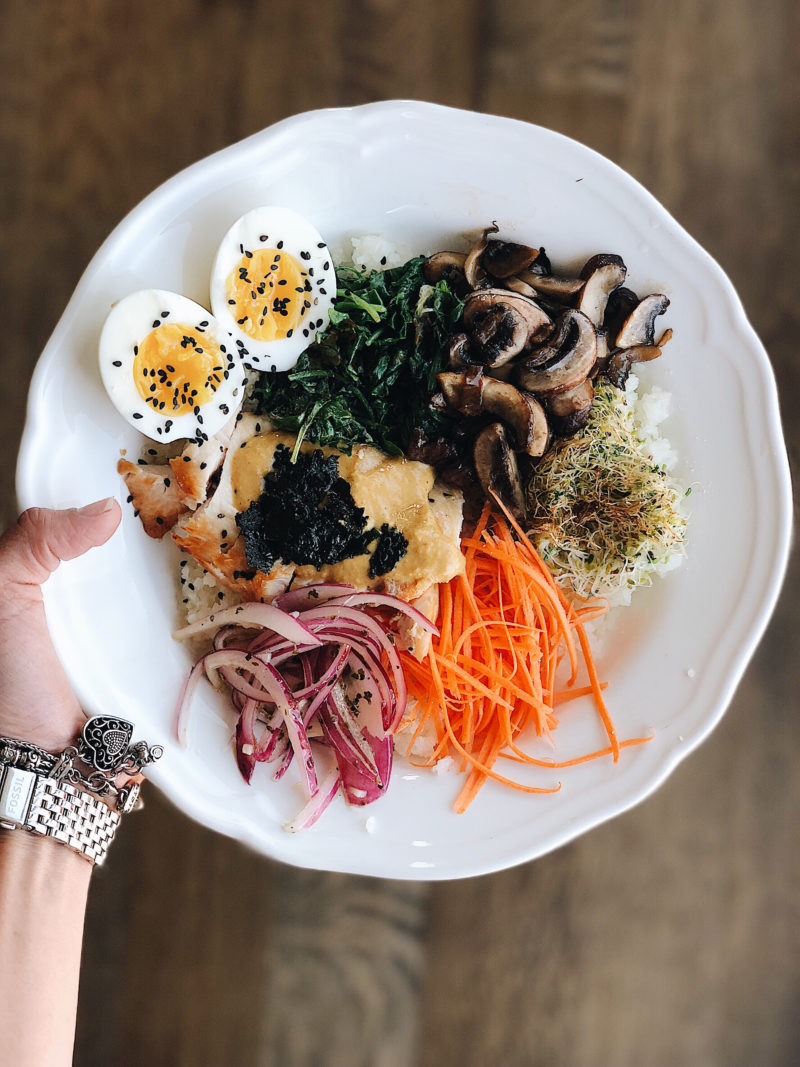 One of my favorite things about being on whole 30 has been venturing out and trying new recipes.  This Bibimbap salad is by far one of the most fun recipes I've tried and it's now one of our staples.  There are a few moving parts here, but everything can be made ahead of time and assembled right before serving.  The marinated onions give the dish a little tang, the sauce is spicy and fun to pour over and the Furikake seasoning is super easy to make and brings everything together!
If you're not ready to venture off to Korean food, no worries… here's a Latin Flavored Picadillo and a amazing and delicious Lime Cast Iron Chicken!
WANT MY 
FREE WHOLE 30 EBOOK? 
SIGN UP BELOW!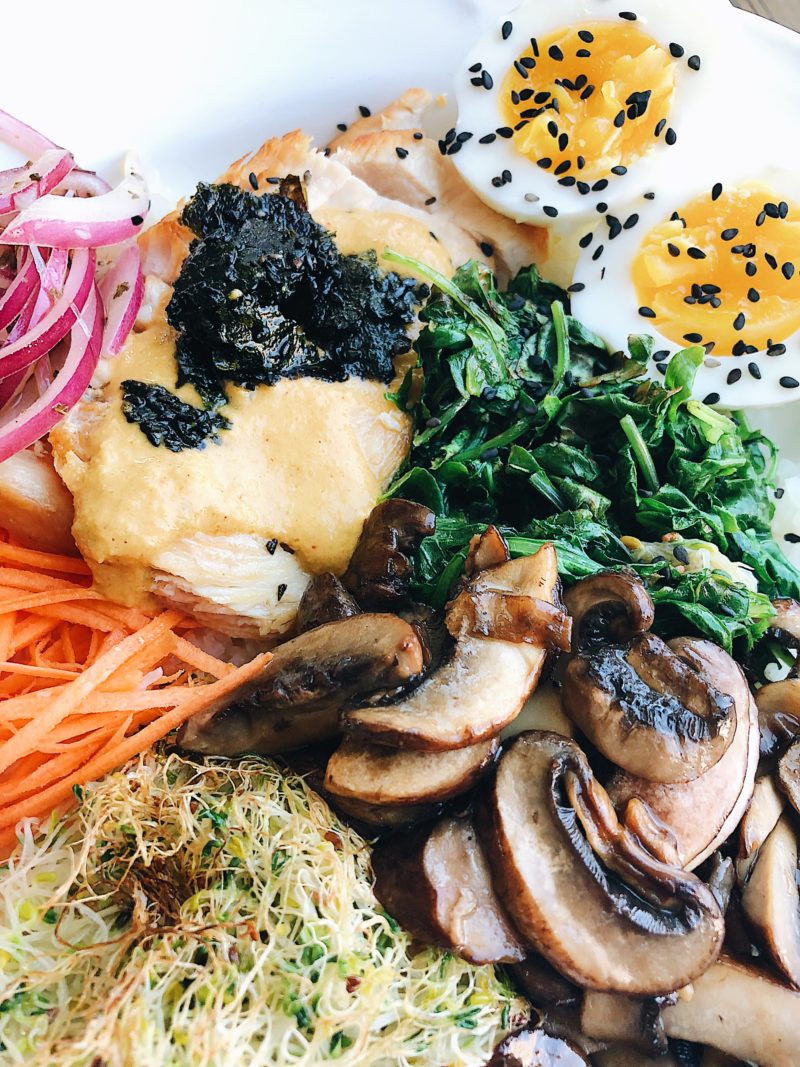 For the sauce
1 thumb-sized piece fresh ginger, peeled and roughly chopped (about 1 tbs)
1 small garlic clove, thinly sliced
3 scallions, thinly sliced (about 1/3 cup)
1 tbs gochujang (Korean red pepper paste)
1 tbs + 1 tsp toasted sesame oil
2 tbs rice wine vinegar
2 tbs coconut aminos
2 tbs water
1/3 cup kimchi
1/4 cup olive oil
salt and pepper to taste
For the Bibimbap
1 chicken breast cut into cutlets (split in half)
3 tablespoons toasted sesame oil
1 tbs olive oil
12 shiitakes, stemmed and sliced
Salt
1/4 cup bean sprouts
1 cup lightly packed baby kale
2 cup cauliflower rice
1 large carrot peeled and grated
2 hardboiled eggs
Furikake seasoning (see below)
Directions
To make the sauce, blend all of the sauce ingredients in a high power blender until smooth.  Place in an airtight container and store in the fridge.
Heat a pan to medium high heat, add 1 tbs olive oil and pan fry the chicken breast for 8 minutes on each side. Set aside to rest for 5 minutes and cut into small strips.
For the bibimbap, heat a sauté pan over medium high heat; add a tablespoon of toasted sesame oil, the mushrooms and a pinch of salt.  Cook for 2-3 minutes. Set them aside.  Add more oil, the sprouts, a pinch of salt and sauté for a minute. Set aside.  Add more oil, the kale and sauté with a pinch of salt.
Devide the cauliflower rice among two bowls and arrange the carrots, mushrooms, sprouts, kale, eggs, marinated onions, and chicken on top. Garnish with furikake and serve with a drizzle of sauce.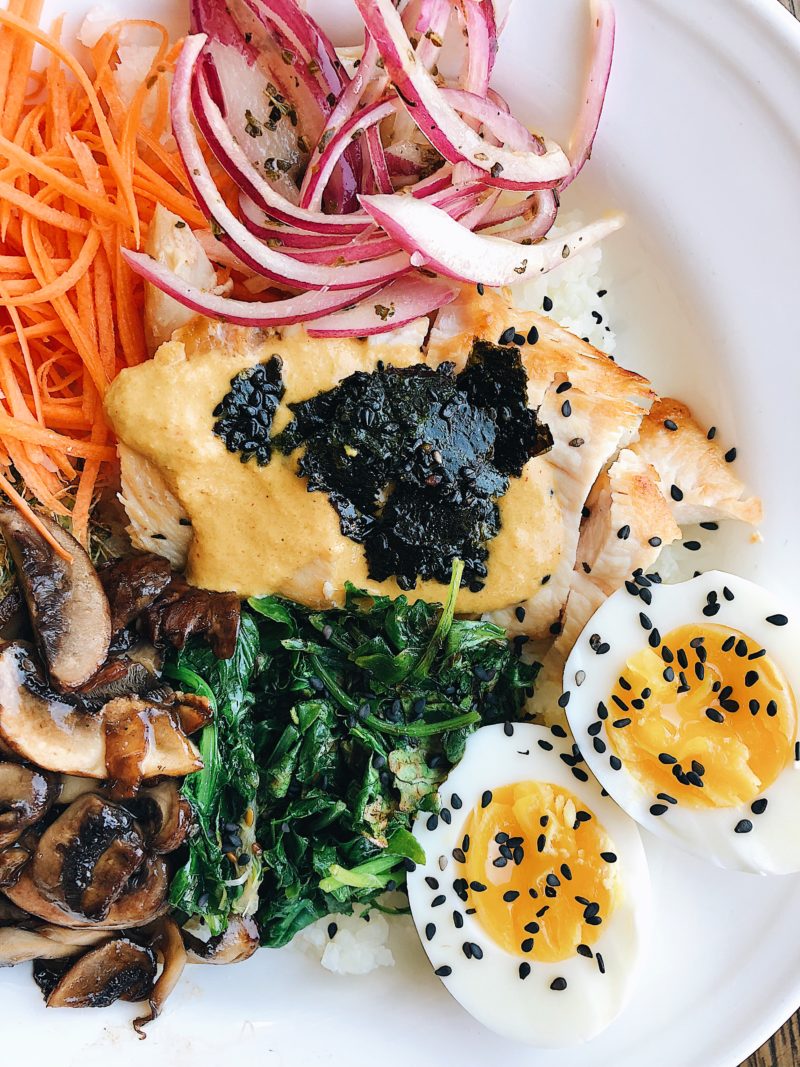 Furikake seasoning
Ingredients
2 toasted nori sheets
2 tbs toasted sesame seeds
2 tsp teeny tiny chopped dates
1/2 tsp toasted sesame oil
pinch of salt
Directions 
Use your fingers to crumble the nori into very small pieces into a bowl, add the remaining ingredients and stir until combined.  Store in an airtight container and refrigerate.