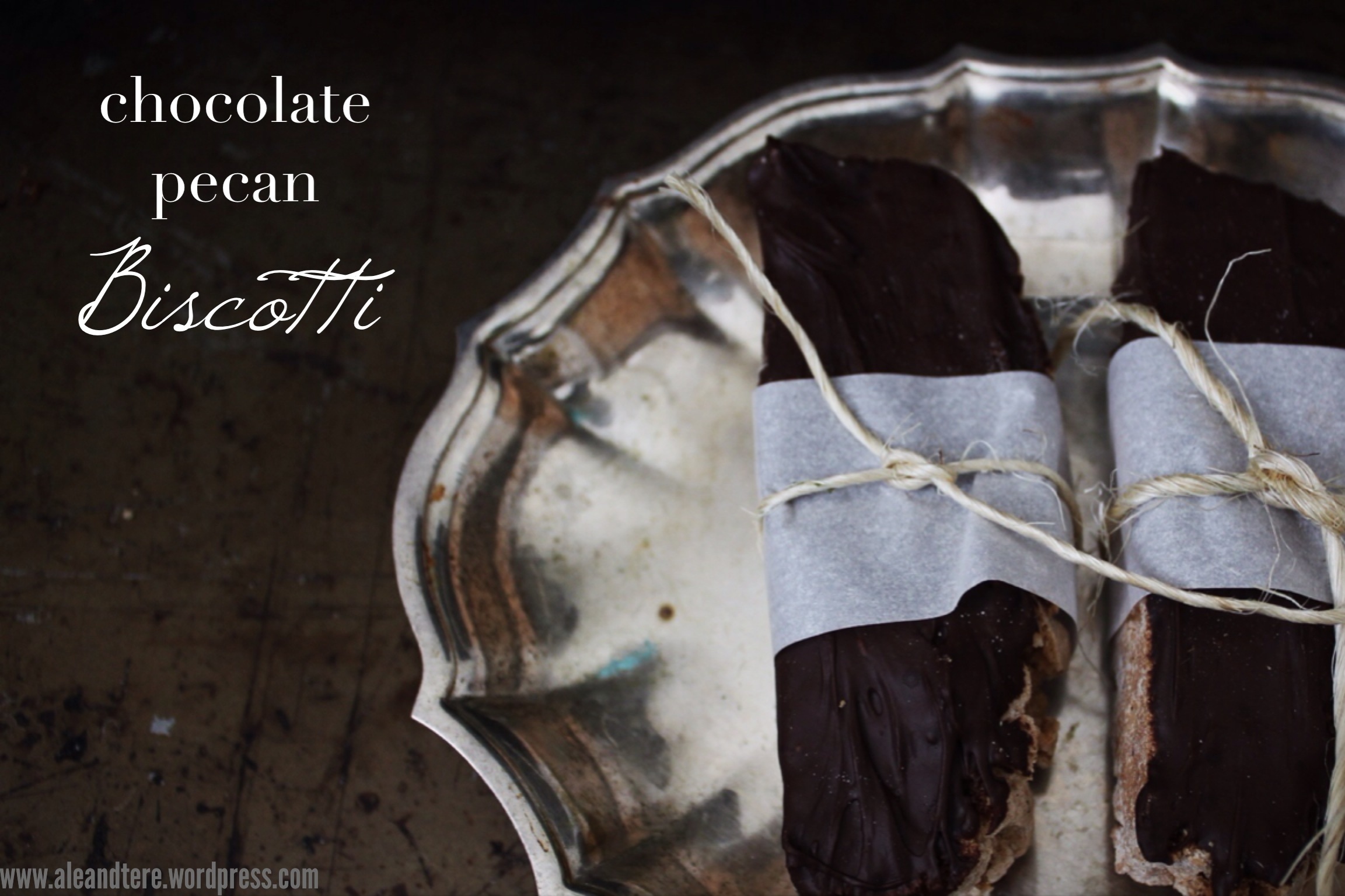 one of my favorite things to do during the holidays (or any day) is to bake scrumptious treats that don't require a lot of time and effort to make.  i found this recipe for biscotti's in an old cook book i have and tweaked it to add pecans and chocolate!!! 
to be completely honest… i am soooo behind on my Christmas shopping.  we have ONE gift under our tree and that's for ale's secret santa.  we still have grandparents to shop for and cards to give out… and we're at T-3 days!!!  (insert crazy Christmas lady screaming here)
my point… i was thinking about baking another batch of these lovely little treats and giving them as gifts. super old school but i don't think you can go wrong with baked good for Christmas. right?
so to my procrastinating friends and to those who enjoy a good biscotti with their coffee or tea…. here's your "get out of christmas jail" free card.  enjoy!!!
chocolate pecan biscotti
ingredients
1 3/4 cups whole pecans
1 2/3 cups all-purpose flour; plus extra for dusting
3/4 cup superfine sugar
1 tsp baking powder
1/2 tsp ground cinnamon
2 eggs
2 tsp vanilla extract
6 0z semi sweet chocolate chips
directions
preheat the oven to 350 degrees. line a baking sheet with parchment paper.
very roughly chop the pecans leaving some whole
mix the flour, sugar, baking powder and cinnamon together in a mixing bowl.  stir in the pecans.
beat the eggs with vanilla extract in a small bowl, then add to the flour mixture and mix together to form a firm dough
turn the dough into a lightly floured surface and knead lightly
shape the dough into a log and transfer to the prepared baking sheet and into the oven for 25-30 minutes until firm
remove from the oven and let cool slightly, then transfer to a cutting board and cut into 1/2 inch slices. meanwhile reduce the oven temperature to 325 degrees
arrange the slices cut side down, on the baking sheet
bake in the oven for 15-20 minutes until dry and crusty. transfer to a wire rack
once cooled, melt the chocolate in the microwave (carefully) and spoon over one side of the biscotti.
let cool and enjoy!
^^seriously… how cute is my little helper?!^