This shop has been compensated by Collective Bias, Inc. and its advertiser. All opinions are mine alone. #ScrubDots #CollectiveBias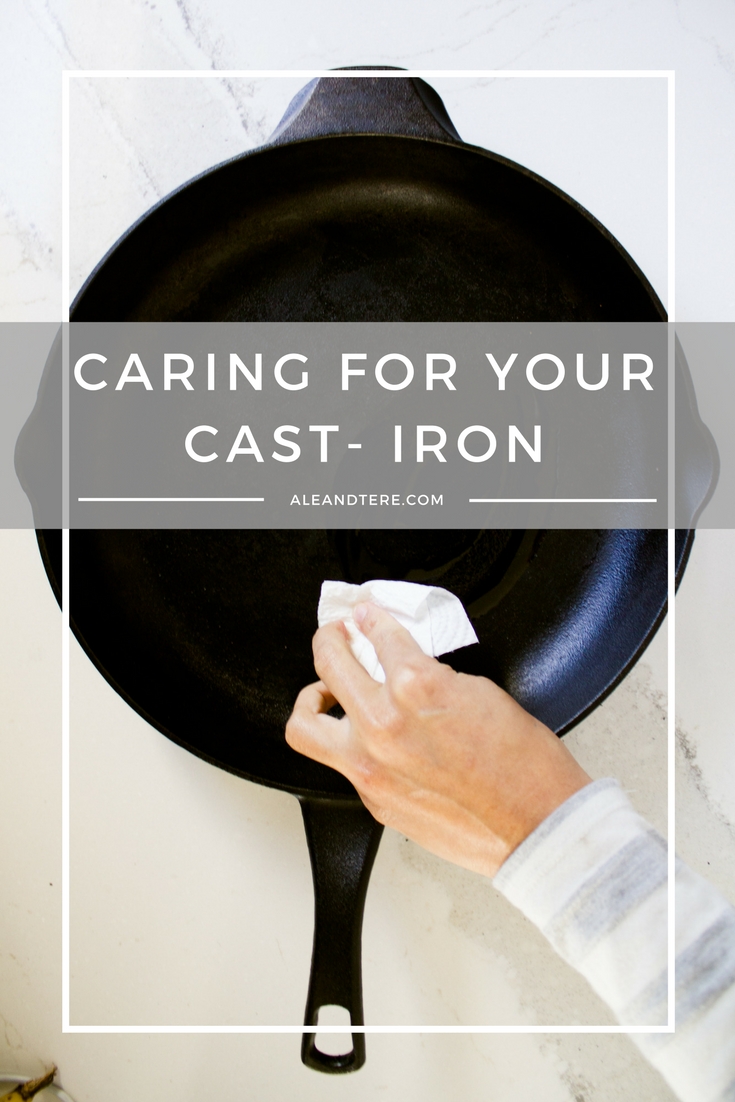 This past summer, I went out and got myself a cast iron skillet.  A real heavy duty – lets see what all the fuss is about – will last you 100 years – cast iron skillet. And I have to tell you… I love it! I didn't understand the hype and definitely had to get past the no soap thing, but we are riding the cast iron skillet train and are loving it!
Owning a cast iron is serious work.  It's like being in a committed relationship and like any good relationship, it has to be nurtured and tended to.  Since I am a cast iron newbie, I thought I'd jot down a few cast-iron 101 tips for myself to have on hand and for those of you who are also jumping on the cast-iron train with me!

CAST IRON SKILLET 101
Seasoning 
Seasoning is the first step of cast iron care.  If it's a new cast iron, it is shipped to you with a protecting coating and if it's old, it's probably rusty.
Scrub the entire cast iron down to it's base layer with steel, wool, hot water and mild soap.  This step is necessary if this is your first time using your cast iron or if it's rusty and you want to bring it back.  After you're done scrubbing, rinse it under hot water and then continue scrubbing it with a heavy duty sponge.
I like to use Scotch-Brite® Heavy Duty Scrub Dots Sponge because they scrub fast and rinse clean, eliminates baked-on-messes, and can be used on heavy duty cookware.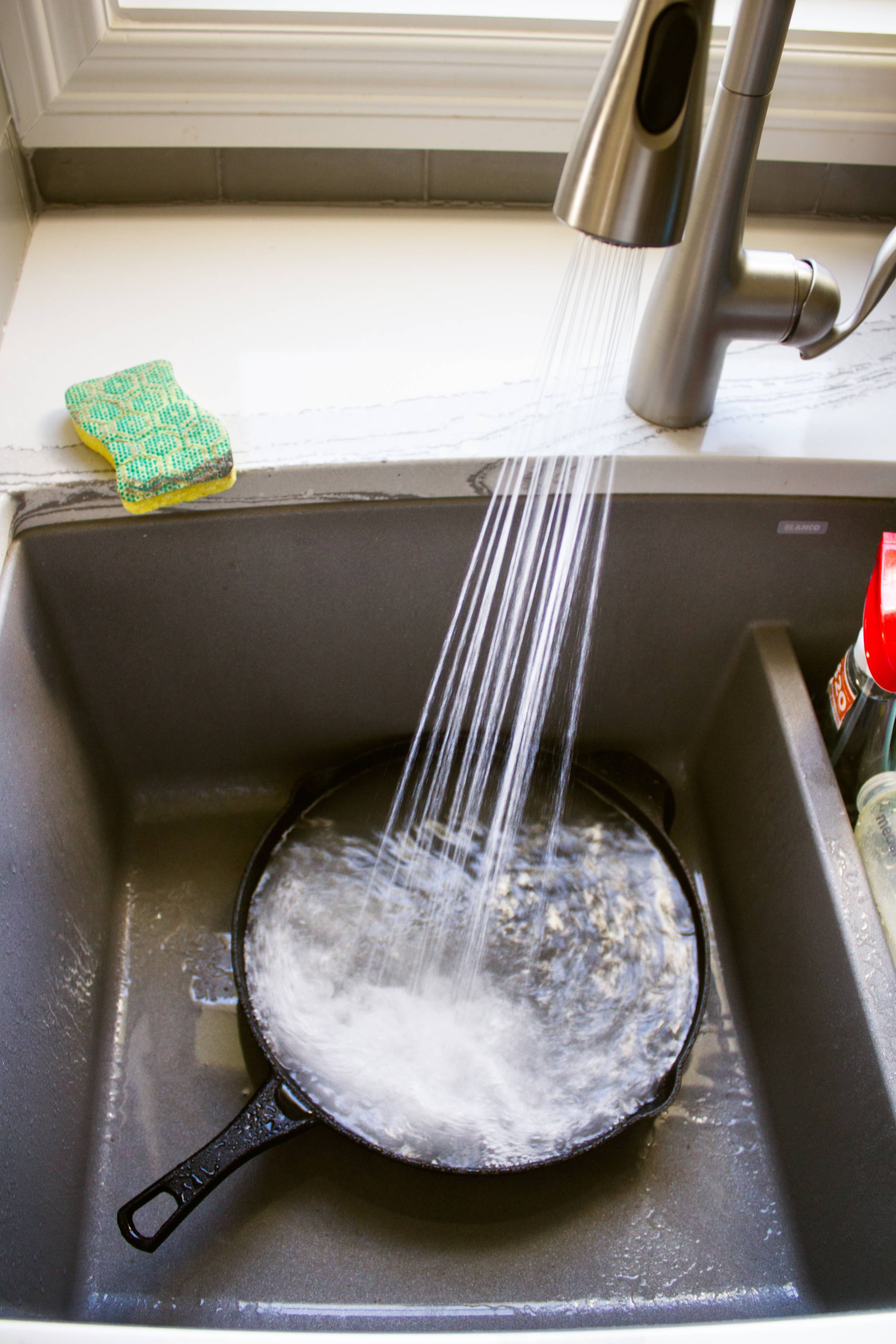 Dry the skillet
After rinsing with hot water, completely dry the skillet with a towel.  Don't forget the handle and the back.  Then, place it in a hot oven to dry completely.  This will eliminate the excess moisture and prevent rusting.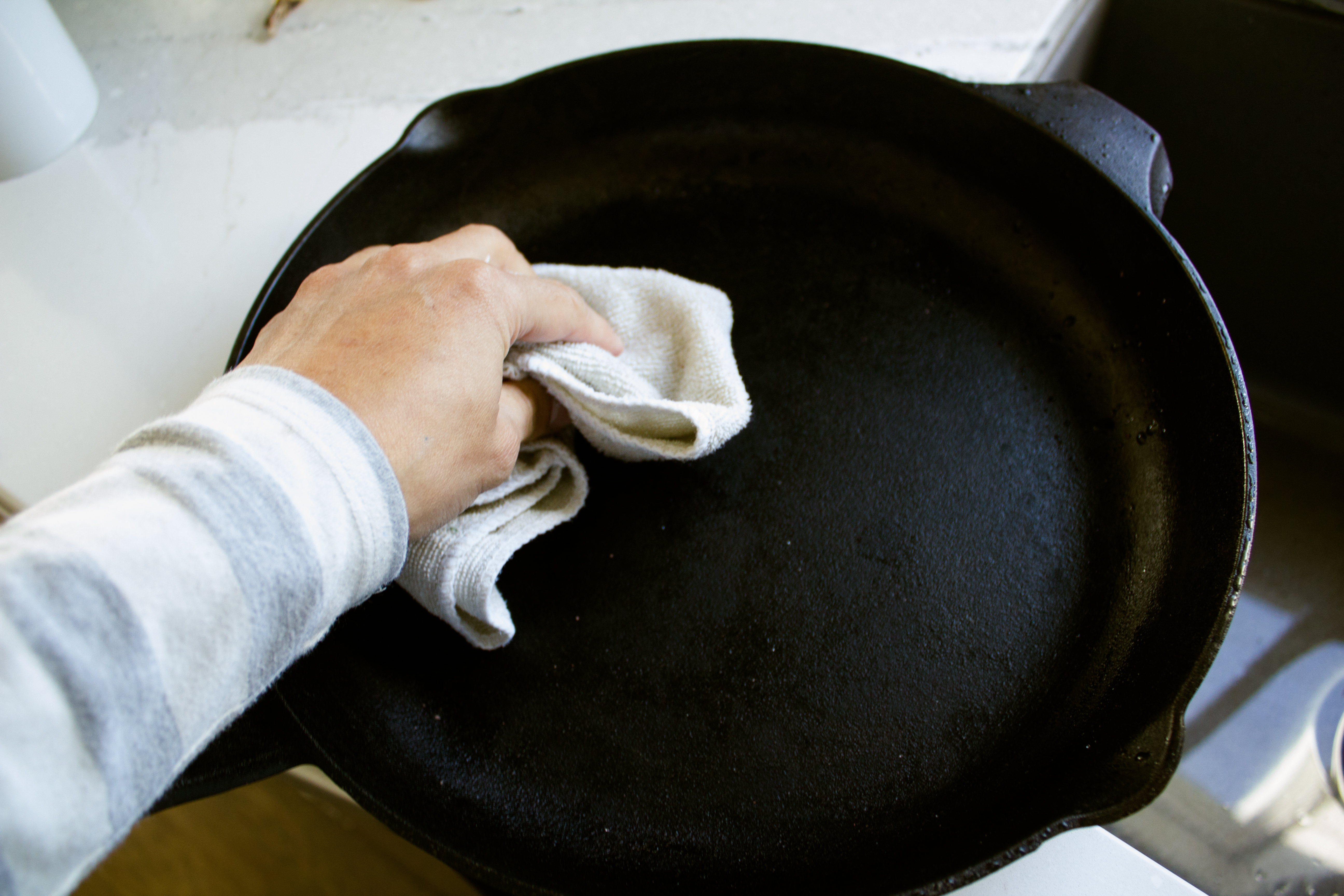 Oil
Add a small amount of canola oil in the skillet and spread it all over using a paper towel.  Make sure you get the handle and the back of the cast iron as well.  After you're done coating the entire skillet, wipe any excess oil with a clean paper towel. This is a crucial step that can lead to a sticky skillet, if omitted.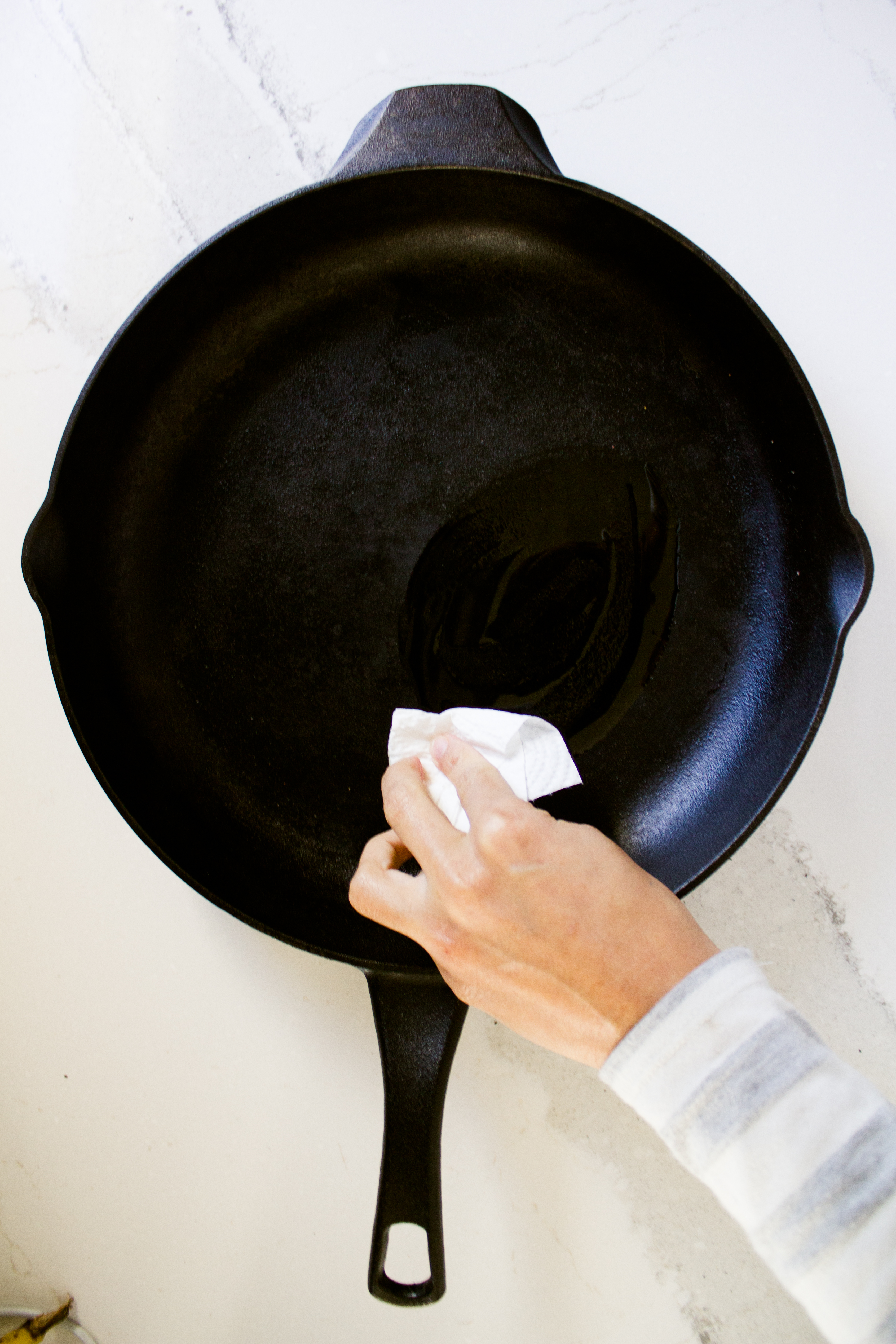 Heat
Heat your oven to 450°F – 500°F and place the skillet upside down on the middle rack for one hour.  This step ensures that the oil is broken down and bonded with the cast iron. After an hour, turn the oven off and let the skillet cool in the oven.  If it's not kept in the oven the entire time, your skillet will get sticky.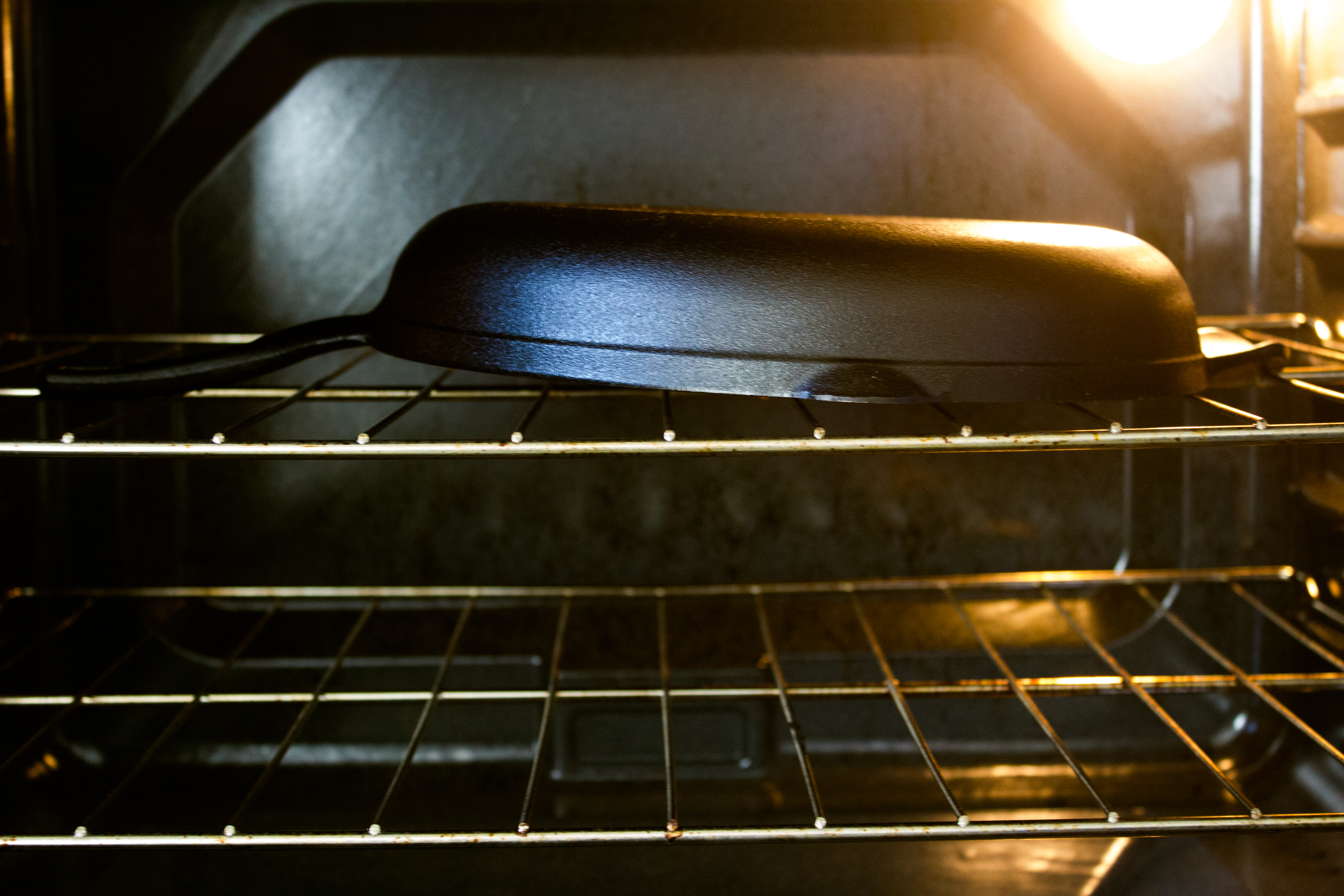 Done! This is the seasoning process that will result a glassy layer that protects your skillet and makes it nonstick.   It's good to do this at least twice a year.
Cooking
In order for your skillet to be non-stick, you have to preheat the skillet on medium heat for about 5-8 minutes.  After it's hot, then you add the oil of your choice and let it heat up.  The skillet must be hot before you add cold food to it or your food will stick.
Once you place your food on the skillet don't move it around too much.  If you're cooking chicken breast or a steak, let the skillet release the meat before turning it. You can also start meals off on the stove and move it over to the oven to finish.  This is one of the cool things about having a cast iron skillet!
Cleaning
After cooking, let the skillet cool down a bit before you wash it. However, don't wait too long. It is best to wash it while it's still warm.
Scrub the skillet with salt and hot water to remove all of the sticky food.  Pour a few tablespoons of salt and then using the tough side of your Scotch-Brite® Heavy Duty Scrub Dots Sponge scrub the skillet. This steps allows you to get the food off the skillet without damaging the seasoning.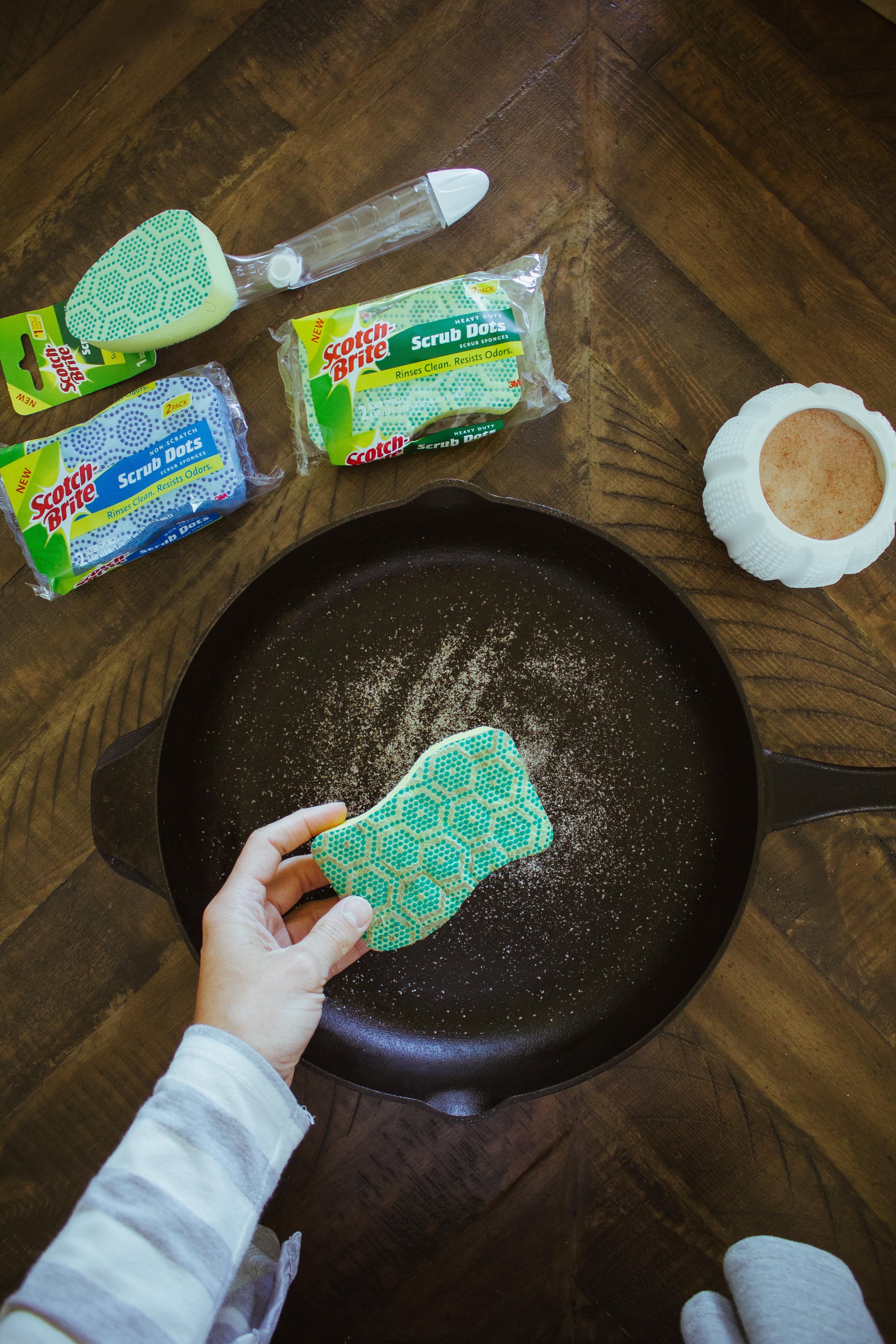 Dry off the pan using a towel and then place it back in the oven or on the stove to make sure it's completely dry.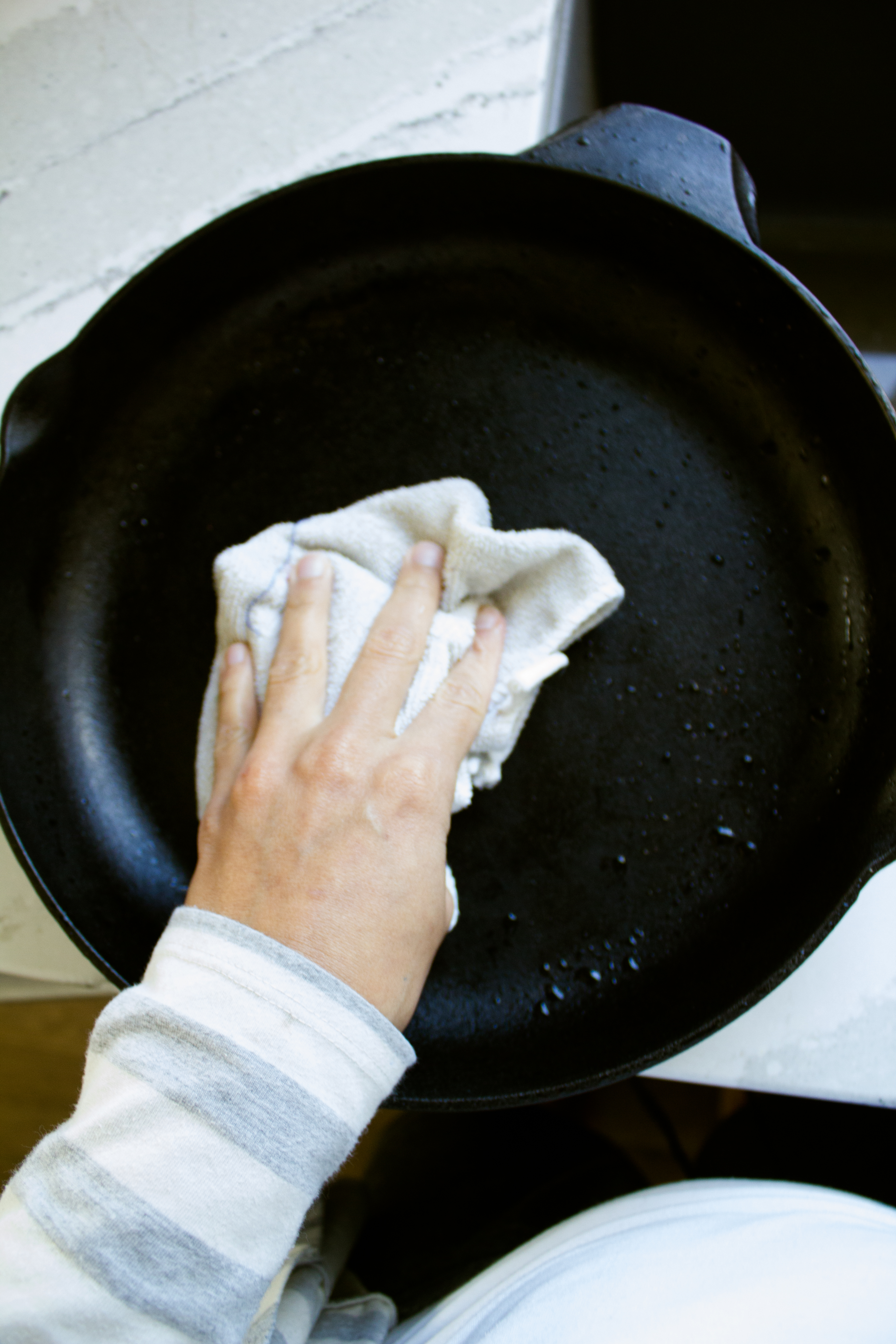 Once the skillet is completely dry and still warm, add a layer of oil inside of the pan and on it's sides with a paper towel and then again with a clean paper towel making sure to pick up all of the oil. Return the skillet back to the stove and let the oil heat up and start to smoke.  Heating the oil past it's smoking point will allow the oil to bond with the skillet and form a non-stick layer.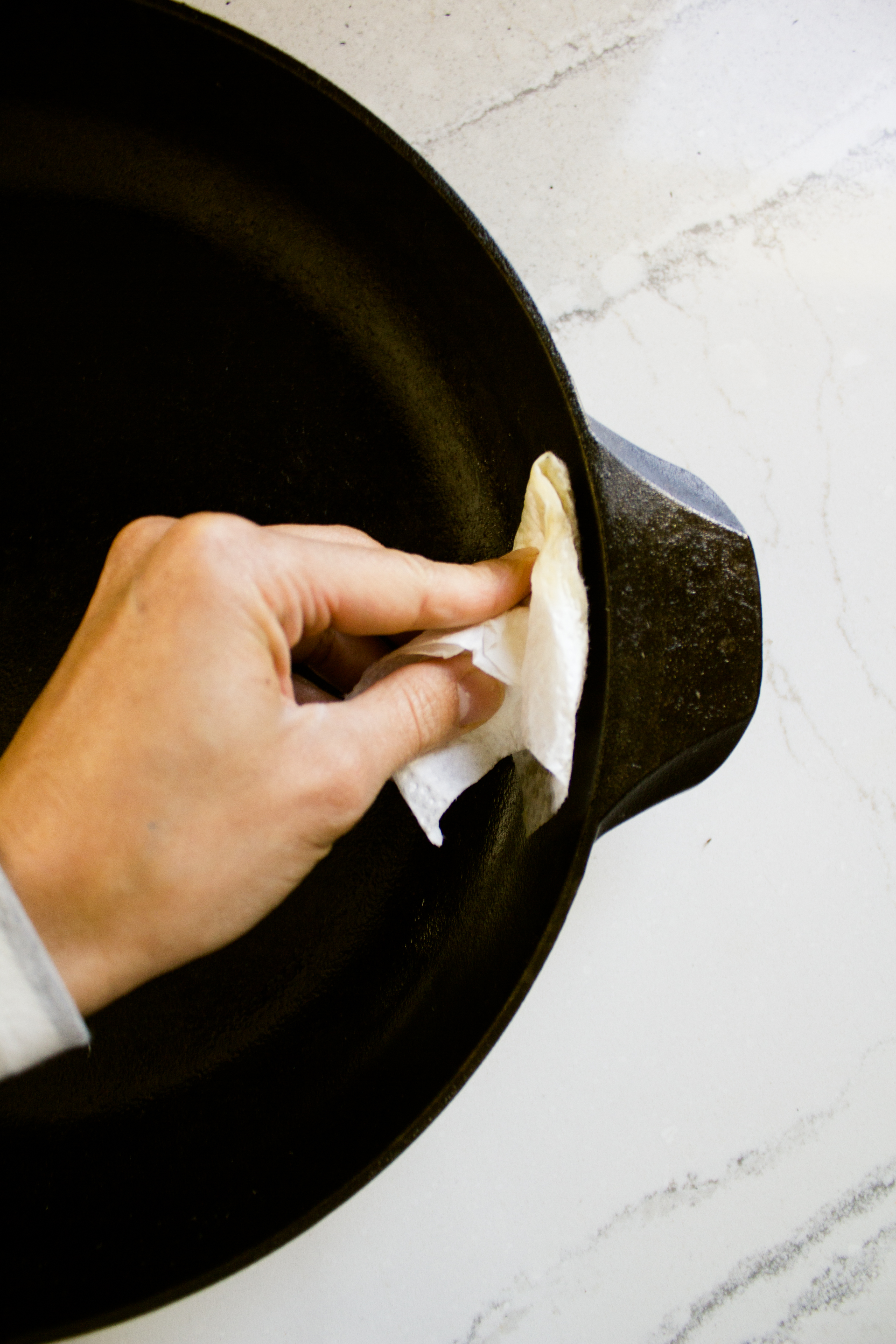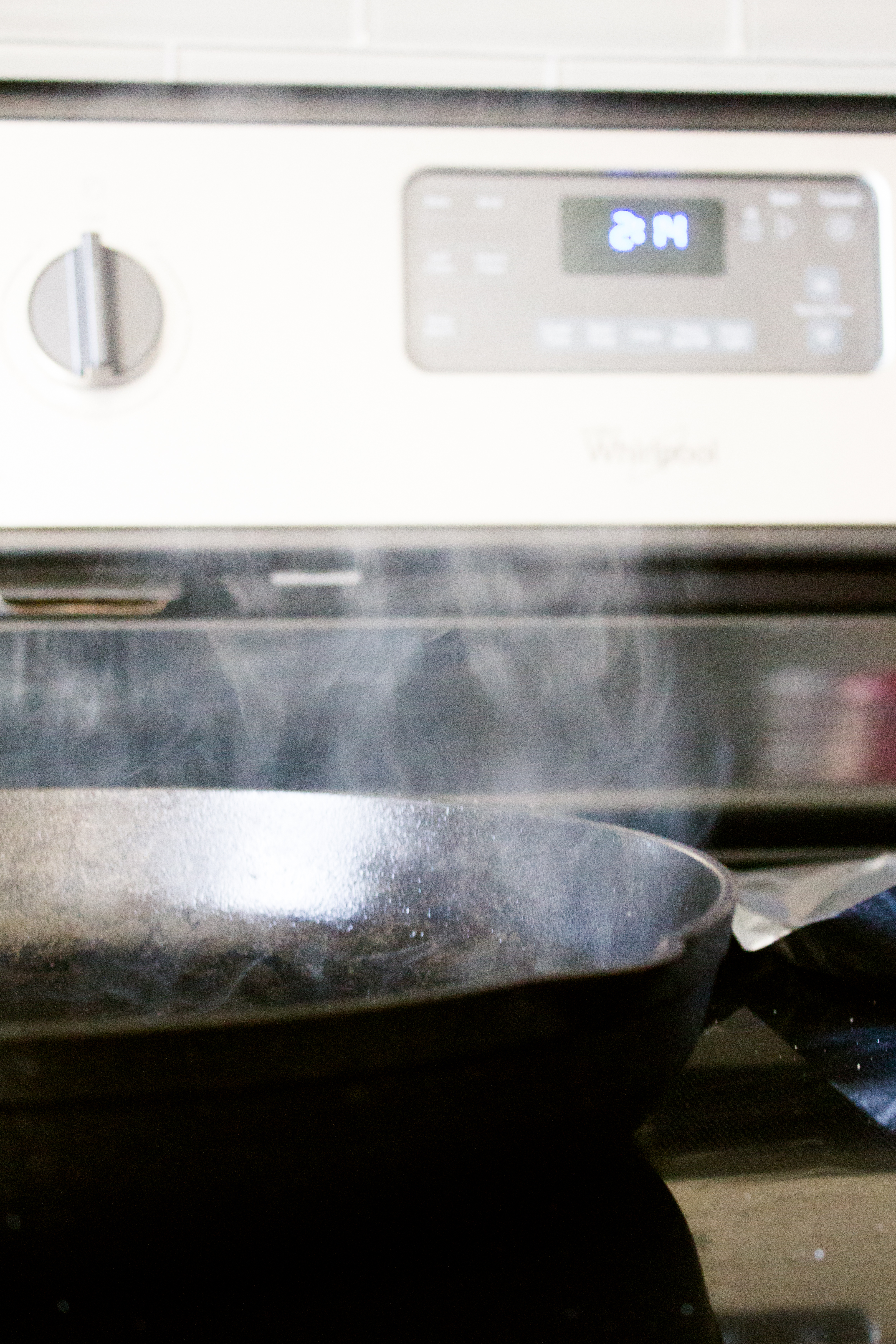 That's it friends!
Want more inspiration?  Check out this
link 
 and check out
this coupon
for $1.00 off any two Scrub Dots items.  Offer valid until 12/31