Hey friends I want to introduce you to Julie from Happy Home Fairy .  I have been a long time reader of her blog, but it wasn't until last year that we met in person.  The first time I met Julie was during a Sunday morning worship service at her church.  We were encouraging Grace to attend children's church but she was very hesitant and a little scared to leave our side.  Julie was so kind to her.  She went out of her way to introduce her to everyone in the classroom and spent the service making her feel right at home. I'll never forget that.  Julie is so genuine and kind and her love for God and for others is contagious! Thanks Julie!
You can find her here: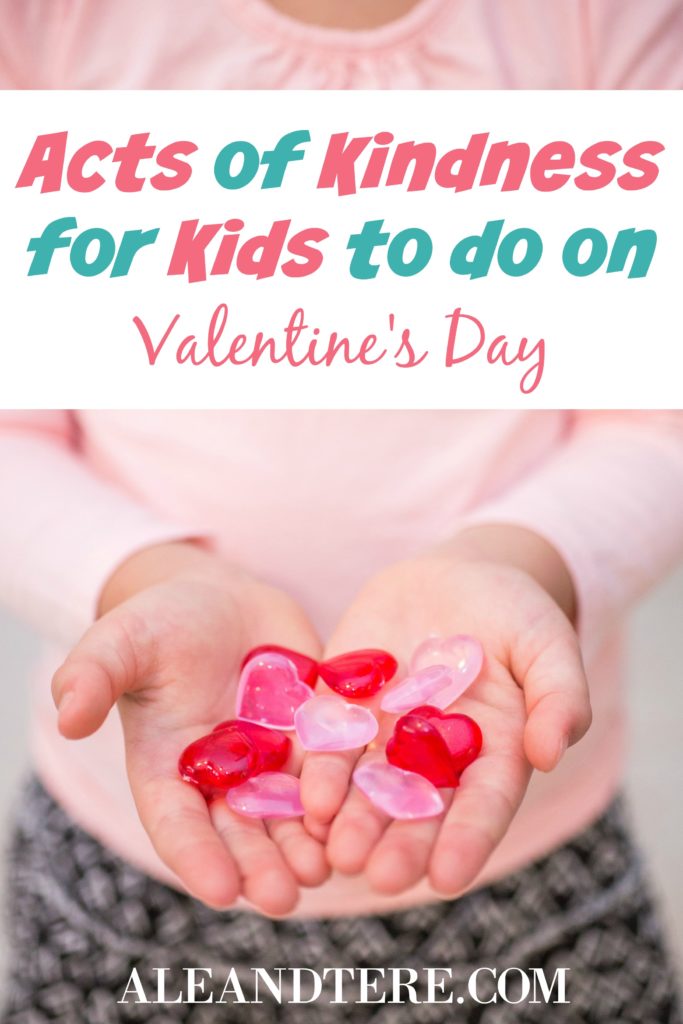 Hey sweet mamas!
My name is Julie and I blog at Happy Home Fairy. I am so excited to be blog swapping with Teresa today because I just love her heart! She is funny, genuine, and loves Jesus in a way that encourages me all the time.
Today I wanted to share with you 5 simple acts of kindness that you can do with your kiddos this Valentine's Day season! Teaching my kids to be kind and share God's love with others is something I am very passionate about. Because the Lord's greatest commands for us are to Love Him and Love Others (Matthew 22:36-40), I really want to love Him well by loving others well – and I want that for my kids, too! And I believe with all my heart that this kind of others-focused living brings about true joy and contentment.
Acts of kindness do not have to be expensive or even time-consuming. As a full-time working mama of 2 busy boys, I can get overwhelmed at the thought of adding another thing to our plates! But being kind should be natural and easy. In fact, some of the best ways people have shown kindness to me have been the simplest of gestures! Just a little something to communicate, "I am thinking about you," or, "You matter!"
As your kids participate with you in blessing others, you will see them learning the privilege that we have to be His hands and feet here on earth for this time we have been given.
Ready to get started? Here are 5 simple ways you can be kind to others this month!
Heart Attack
A few years ago we decided that we wanted to do something nice for our next-door neighbors, so we grabbed some heart-shaped helium balloons from the dollar store, made some construction paper hearts with encouraging notes, and took a roll of tape to their house. Without them knowing, my boys and I taped the hearts all over their front windows and tied the balloons to their front door. You can see it HERE!
My boys had a blast and the end result equaled super surprised and blessed neighbors when they discovered their decorated house later that day!
Teacher Gift
Aren't teachers amazing? Having been one myself, I know how hard these guys and gals work! So I love to teach my boys to honor and appreciate their teachers by bringing them little goodies throughout the year. This year the boys took a box of Girl Scout Thin Mints with a note that says, "You were MINT to teach!" It was so easy and inexpensive! You can grab our FREE Printable tags for that HERE.
The Widows and Single People
In the last couple of months we have had not just one, but TWO married couples in our church lose their spouses. I cannot even imagine how Valentine's Day is going to feel for them. I also have divorced friends and single friends who find this day to be terribly challenging. Send these precious people a card or bring them flowers or a small treat. Just a reminder for their hearts that they are not alone or forgotten.
Mail Carrier
I always think it's fun to have my boys put a surprise in the mailbox for the mail carrier! Think about it, they are the ones always filling the box and taking our mail away, wouldn't it be magical for THEM to receive a piece of mail one day? You can find a cute FREE Printable card for your mail carrier HERE!
Babysit
When you have little kids it can be SO HARD and expensive to find a sitter and go out on a date! Why not pray about picking a couple you know who has kids and telling them that you want to watch their kids so they can go out? It doesn't have to be on actual Valentine's Day (hello insane crowds), but maybe a Saturday lunch? Just have them drop off their kids at your house before they go!
What do you think? Any ideas here stirring in your heart to do with your family this Valentine's Day?
Thanks, Teresa, for sharing this precious space of Internet with me today! You are such a gift and inspiration to mamas!
Joyfully,
Julie, Happy Home Fairy