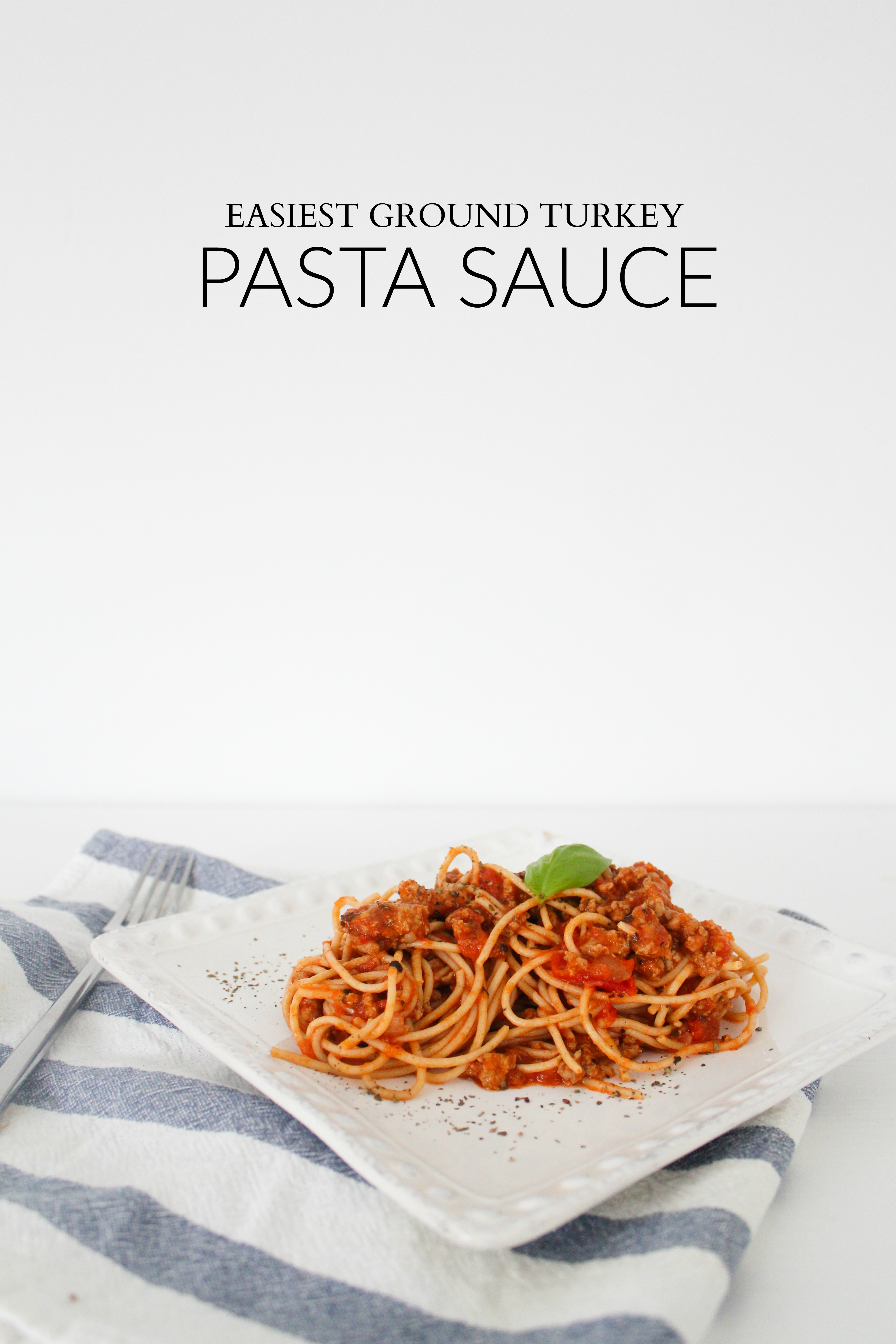 If you're all about healthy one pot wonders, this ground turkey pasta sauce is for you!
Growing up, I remember my mom setting special time aside for family dinners. She worked, took care of my three brothers and I and every night, like clockwork, we would sit around the dinner table with a hot meal ready to talk about our day. I've always wondered how she managed to raise four kids and have dinner ready for all of us to enjoy.   Now that I have kids of my own, my hope is to follow in her footsteps and make family meals a priority.
When I first had kids, I quickly realized that that the key to having dinners at home was to come up with meals that are nutritious and take very little time to whip up. These days, I tend to gravitate towards one-pot wonders and dishes that are hearty and can be served for dinner and lunch the next day. I came up with the easiest pasta sauce. This sauce is perfect for the whole family because it's versatile enough that you can make with beef, turkey or chicken and it's so forgiving that you can hardly mess it up. Also, I like to serve the pasta already mixed in with the sauce.
Easiest ground turkey pasta sauce
Ingredients
1 lb ground turkey
Olive oil
1 small onion- chopped
Salt to taste
1 tbs Italian seasoning
½ tbs garlic powder
1 tbs of paprika
2 (14oz) cans of chopped Roma tomatoes
1 (6oz) can of tomato paste
¼ cup of water
1 box of your preferred pasta
Directions
Bring a large pot of water to a boil and cook the pasta according to box instructions
Caramelize the chopped onion in 2 tbs of olive oil on medium heat, until translucent and set aside (about 8 minutes)
Set the same pan on medium heat and cook the ground turkey in 2 tbs of olive oil until browned (about 5 minutes)
Add the onions, garlic powder, paprika, a pinch of salt and Italian seasoning to the pan and cook together for another minute
Add the Roma tomatoes, tomato paste and water, mix to combine and bring to a simmer
Allow the sauce to simmer for about 20 minutes until all of the flavors marry adding salt to taste
Enjoy!
Looking for more Easy reciepes? Check out this page that's entirely about FOOD!! Also, if you have some of this sauce left over, whip up this amazing LASAGNA!