GIGGLES AND WIGGLES PHOTO SEARCH + HOW TO HELP YOUR DOGGY AND YOUR KIDS FALL INLOVE
This shop has been compensated by Collective Bias, Inc. and its advertiser. All opinions are mine alone.#GigglesandWiggles #CollectiveBias. Because of my partnership with Gerber, my little one is ineligible to win the Gerber Photo Search or a weekly prize, but you may be eligible so make sure you submit a photo of your baby and/or pet!
Hi friends! Today I want to spend some time talking about our sweet pooch Bauer. Bauer has been around for about seven years and he is as much a part of our family as our children are.  It's been a lot of fun experiencing all of these new seasons and stages with Bauer by our side and it's been such a fun treat seeing Bauer and our kids develop a great relationships.  It may sound strange for people who are not dog owners, but after you've had your doggie for such a long time, you can't really remember what life was like before them.  Grace learned to say his name when she was one, Haddon thinks Bauer is his and only his, and Emory has shared all of her food with him since day one!   The kids have a great relationship with him, and today I wanted to share with you five tips on how to create an environment for your kids and your dogs to be the best of friends (below).
I also want to share with you our favorite brand of Dog food.  These days, Bauer really loves his
Purina® ONE® Dog Smartblend Chicken & Rice.
  It has has real meat, fish or poultry is the #1 ingredient, and they have over 85 years of innovation in pet nutrition. Also, no added artificial flavors or preservatives!!!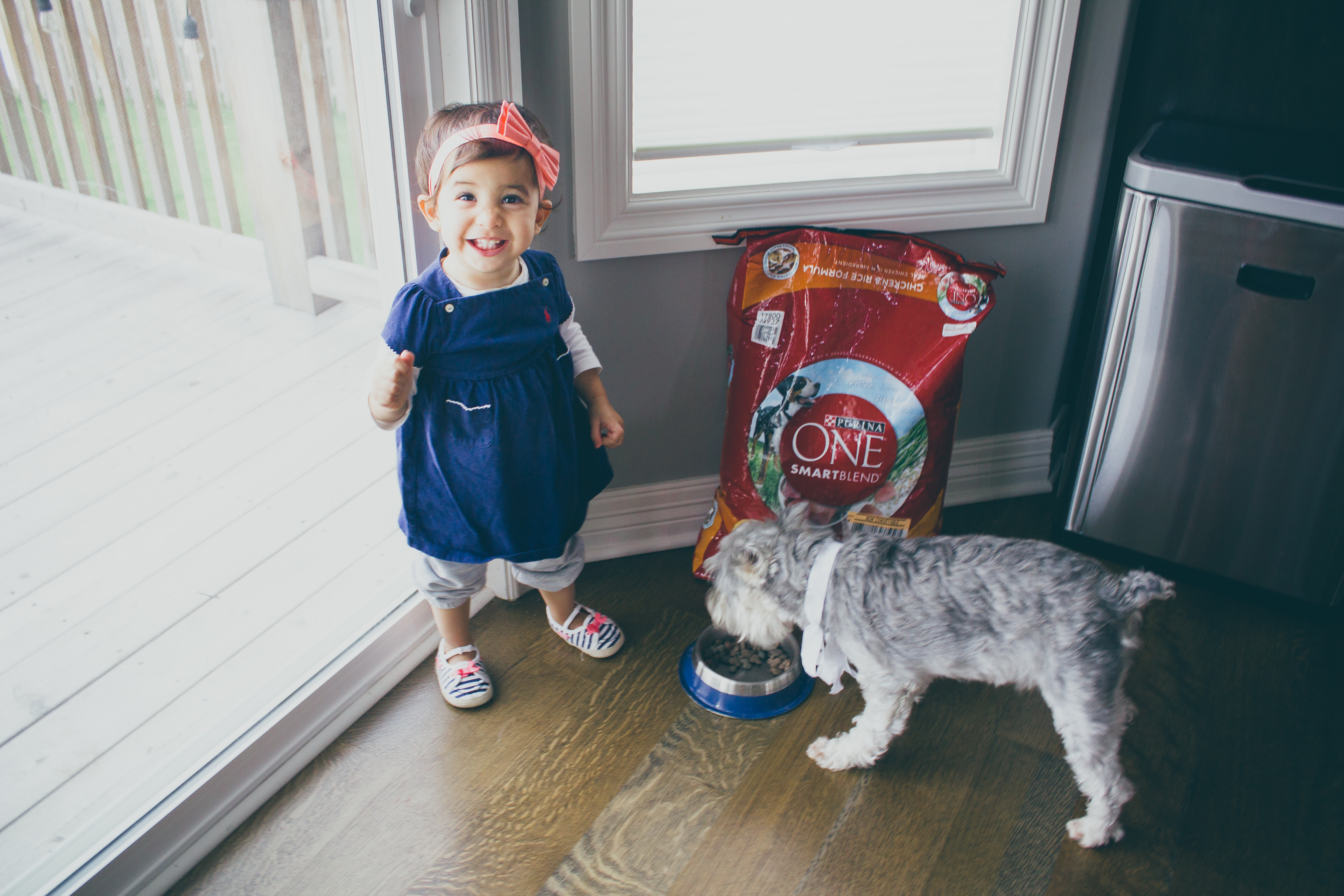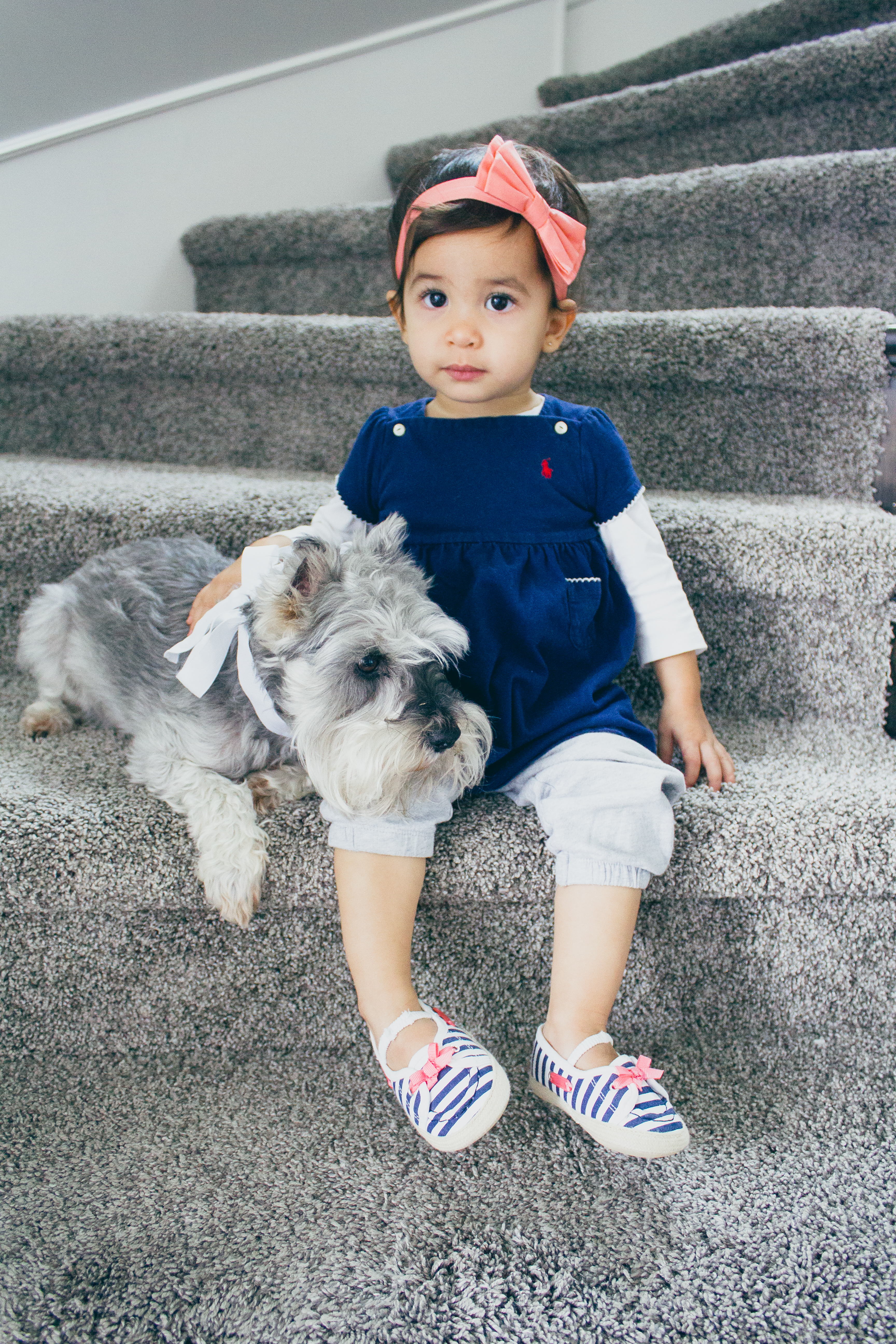 Here are my five sure tips to help your doggy and your kids fall in-love! 
Prepare your dog for new things – While I was pregnant, I would allow Bauer to get acquainted with the scent of our baby's detergent as well as any toys.  We turned on the toys with sound and let him get used to hearing those throughout the day. When we got home from the hospital with Haddon (second baby), Bauer greeted us at the door.  We made it a point to have Alex walk in first, pet Bauer and then continued into the house while we slowly introduced Bauer and Haddon.  We also let him hang out with us for a bit before letting him in his crate. This helped us all ease into having a new baby around.
Plan for the birth – A few weeks before our due date, we made a plan with our parents so they could take care of Bauer while we were in the hospital. We made a list of all of the important phone numbers (just incase) and left a couple of our t-shirts for him to cuddle with. You can also reach out to your local doggy daycare centers while you transition.
Exercise – The last month of pregnancy, we made it a point to slow down the amount of attention we were giving Bauer. We also varied the times when we took him out for walks.  This way, he wasn't expecting his walks at 7am after a no-sleep night for me.  Alex and I both took turns walking him and even asked family members to take him out for walks.  We made it a point to get him used to other people taking him out and kept an exercise routine for him after the baby was born.  When Bauer got plenty of exercise, he was calmer at home and everyone was happy.
Promote a safe and calm space– Provide a place for your doggy that's just for him. Somewhere quiet that he can go if he needs to retreat when the baby is crying or when he needs to rest.  Our laundry room is perfect for this.  It's nice and cozy and he tucks away in there when he's had enough with all of us!
Training– While pregnant, we made sure that Bauer knew his basic commands and used positive reinforcement methods during his training. We clearly marked 'off-limit' zones like the baby's furniture and the couch as well as made sure that he knew that he was no longer allowed to climb on our lap while we sat on the couch or jump up at us.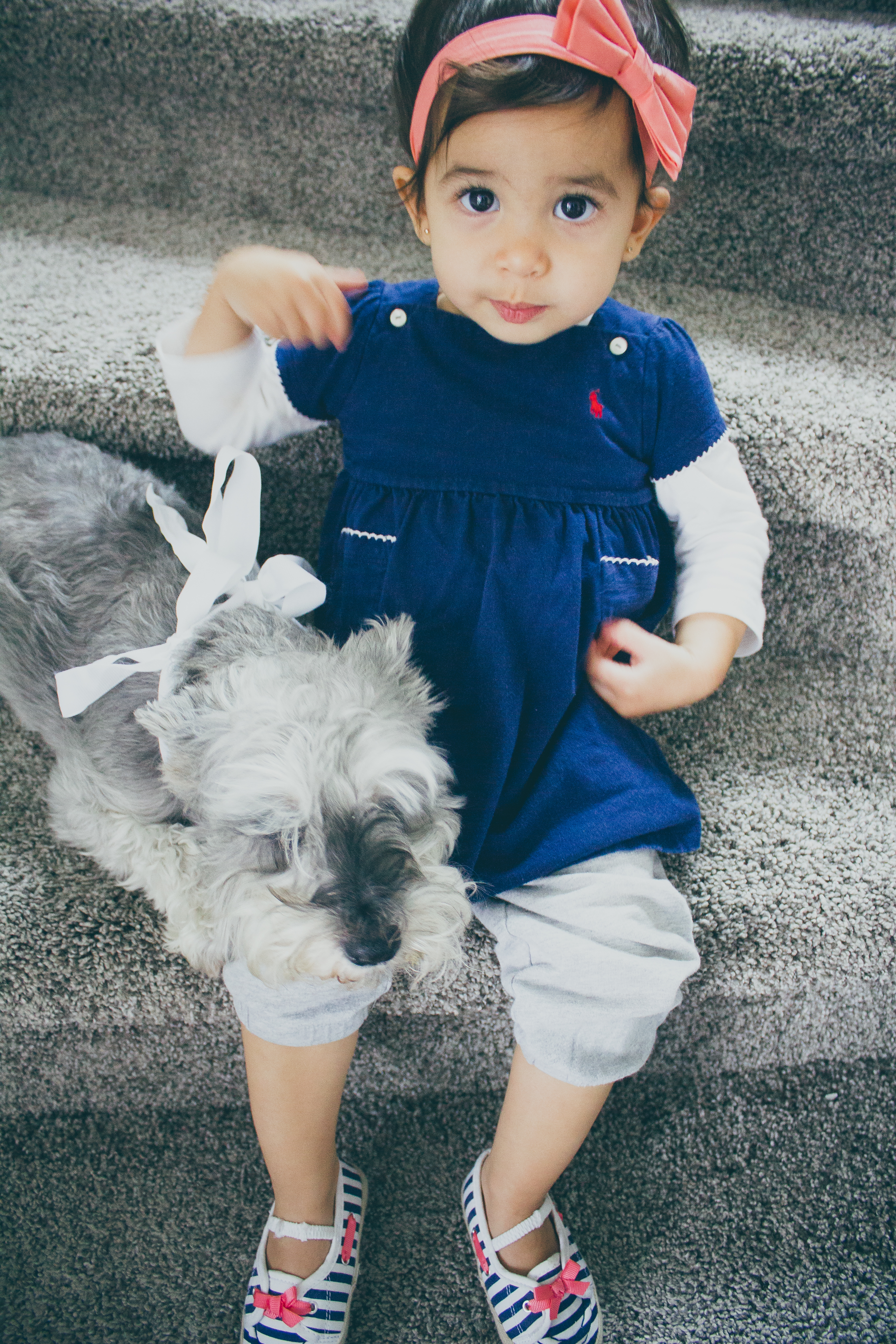 Once the kids got older, we reinforced the importance of being gentle with Bauer.  Although we love them cuddling, setting boundaries between the kids and the dog, makes for a happy family.  We also never leave them alone or unattended and when the kids are awake we make it a point to sit and play with Bauer so he feels included.
Out of all of our kids, Emory and Bauer have a really sweet relationship.  He's very protective of her, and she smiles from ear to ear when he's around. She loves sharing her food with Bauer, all but her
Gerber® Graduates Yogurt Melts Freeze-Dried Yogurt & Fruit Snacks
, which happen to be her post-nap snack of choice.  I like them, because they are a good source of Vitamins A, C, and E. They have no preservatives and they are easy for her to chew and swallow.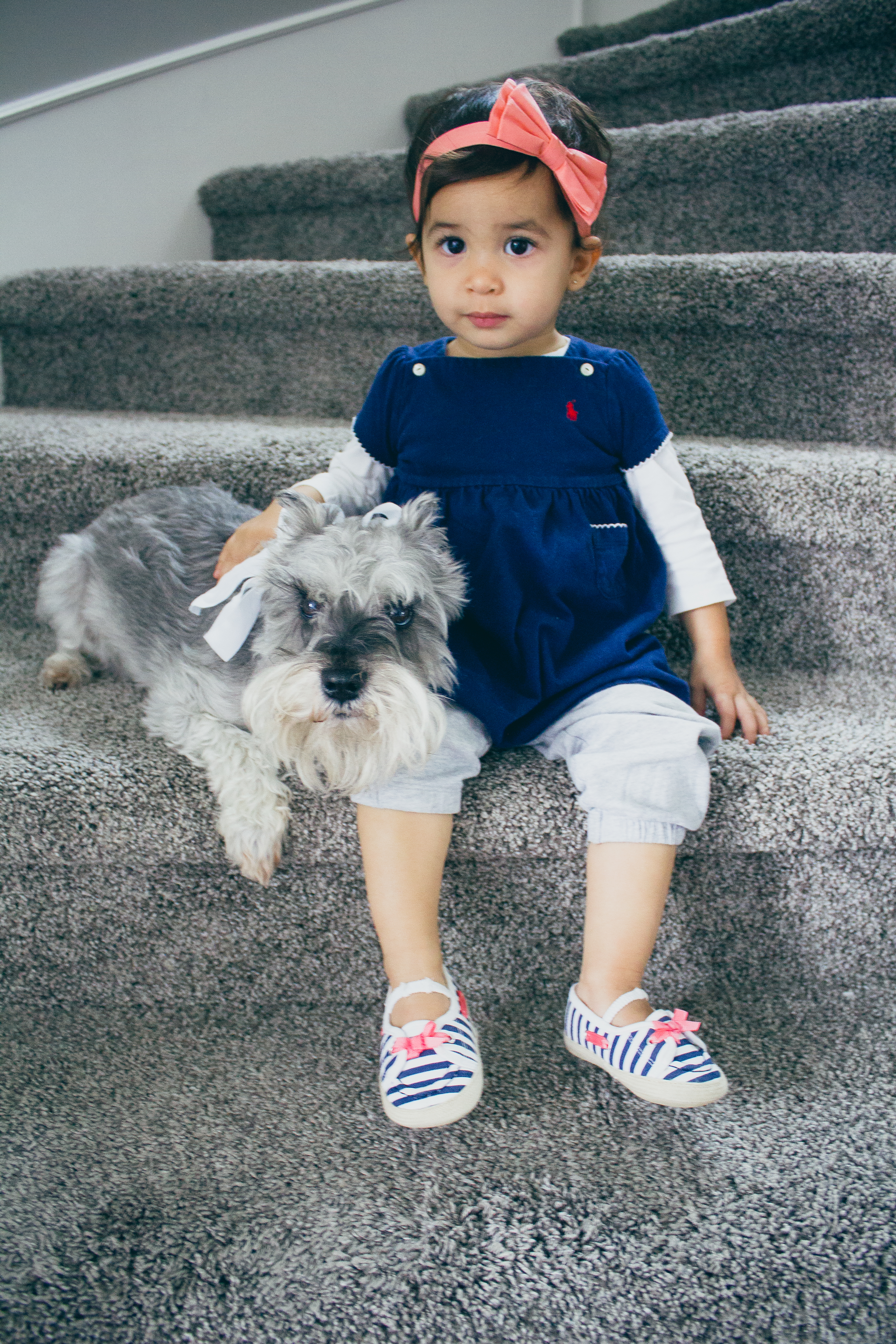 Emory is also snacking on her
Gerber® Grabbers Fruit and Yogurt Strawberry Banana pouches
, which feature Gerber's proprietary Smart Flow spout that helps control the amount of food that comes out — so there are more sips and less "oops."  (Head to MyGerber.com to meet Dorothy, your on-call personal baby expert, or call anytime 24/7 at 1-800-284-9488)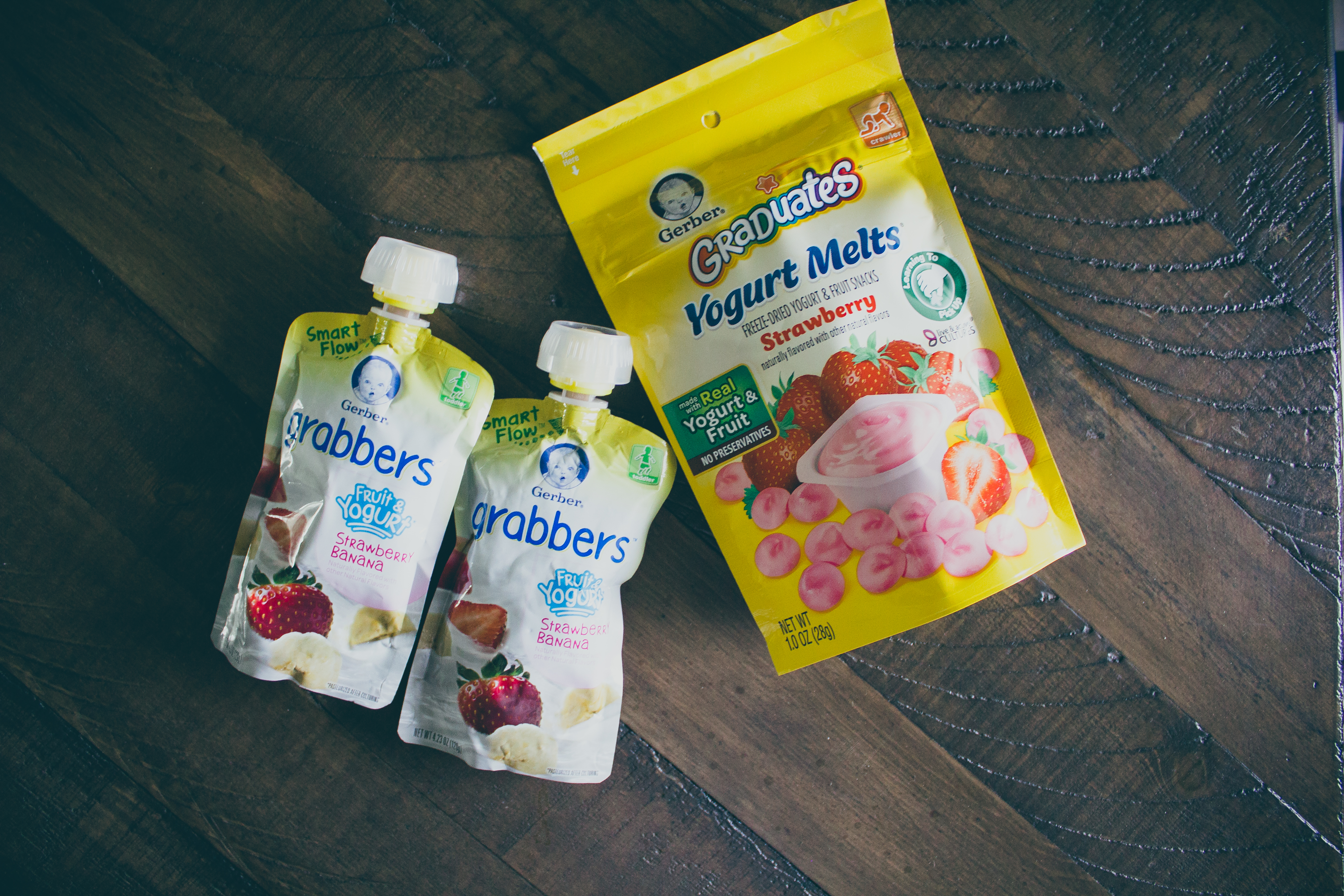 So there's one more thing I want to share, Gerber is having their 8th Gerber Photo Search and this time around it's on Instagram! The search begins on 9/13/17, ends 10/27/17 and it's for a grand prize of $50,000!!!  You may enter by posting a photo of your child on Instagram (must be a public account) using the hashtag #GerberPhotoSearch2017.  You can enter up to 10 times.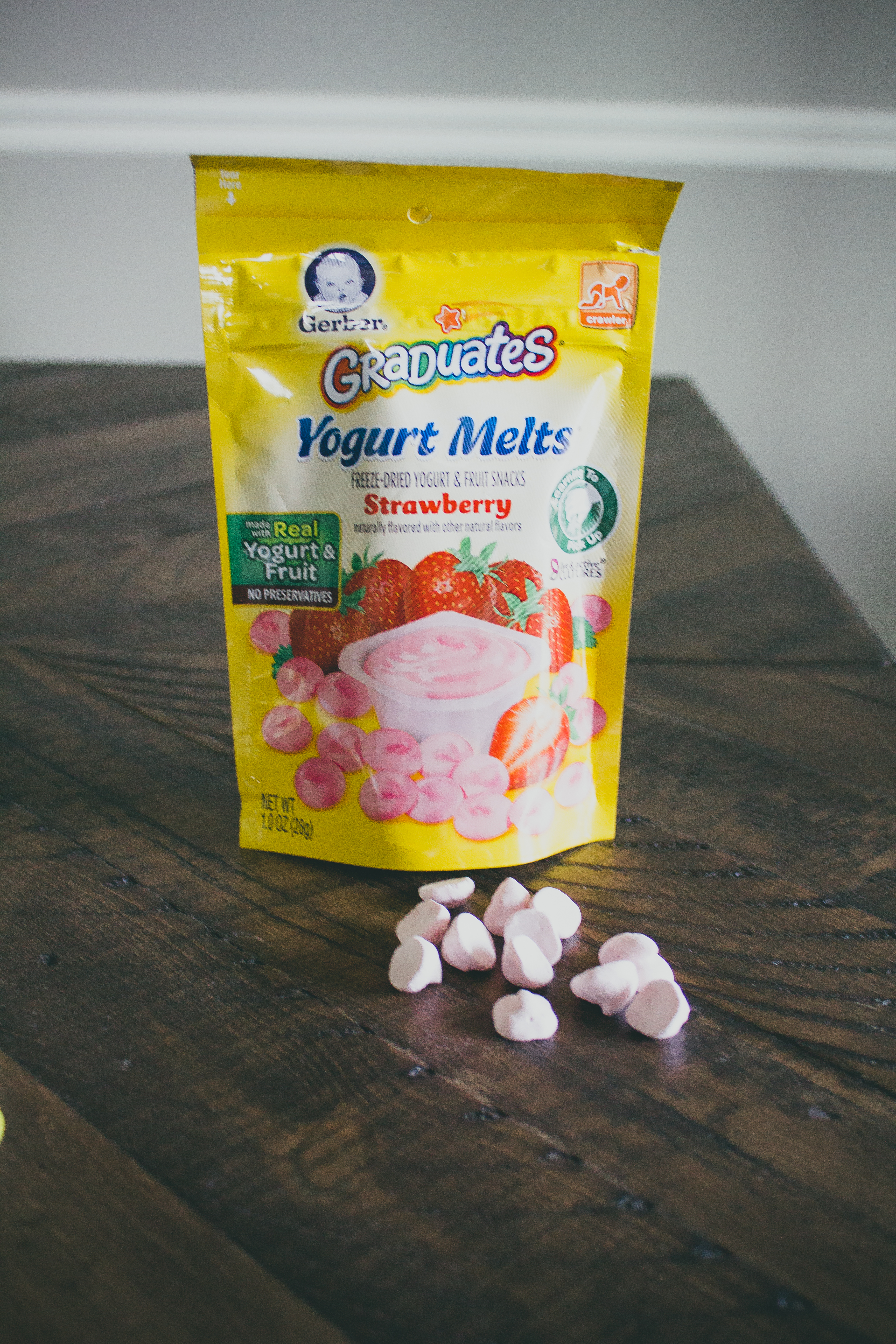 Additionally, there's a separate contest called the Purina/Gerber Giggles and Wiggles Photo Search there are six (6) weekly winners of Giggles and Wiggles prize packs, one winner chosen by judges each week of the photo search.  To qualify for the Giggles and Wiggles Photo Search, you need a photo of BOTH your pet and baby and you need to use both of the following hashtags #GerberPhotoSearch2017 and #GerberGigglesandWiggles
Each weekly winner receives:
$500 Cash prize pack, a 1 year supply of Gerber baby food (valued at $600), and a 1 year supply of Purina pet food (valued at $540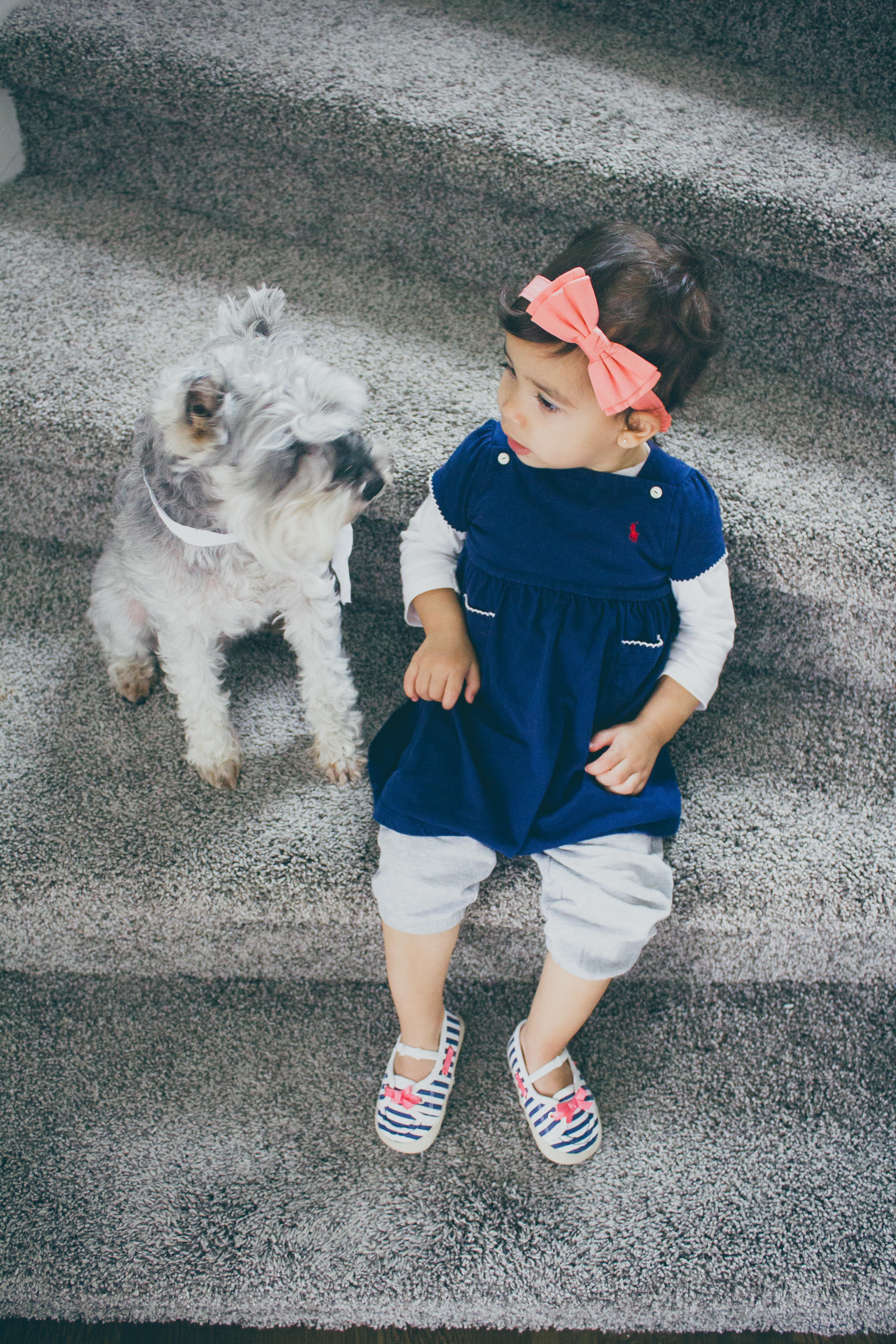 Fine print:
NO PURCHASE NECESSARY. Legal residents of the 50 United States (D.C.) and Puerto Rico, who are 18 years of age or older, have a valid Instagram account and/or email address, and are parents of a child 48 months of age or younger and meet certain background check requirements. Enter search by: 
11:59:59 pm ET 
on 
10/27/17 
For Official Rules, including eligibility and entry requirements, judging criteria and prize descriptions, visit 
www.Gerber.com/photosearch2017/rules 
Void where prohibited.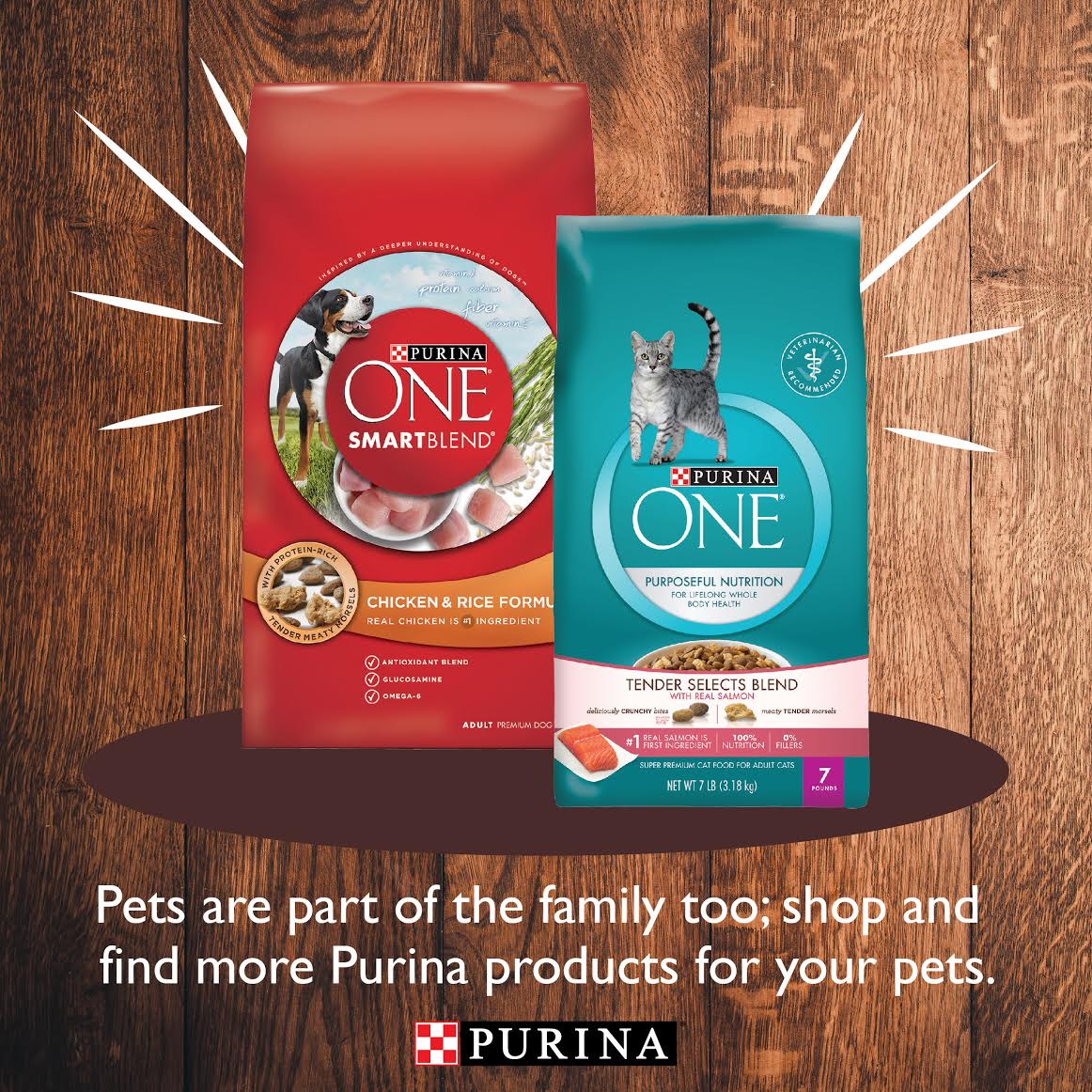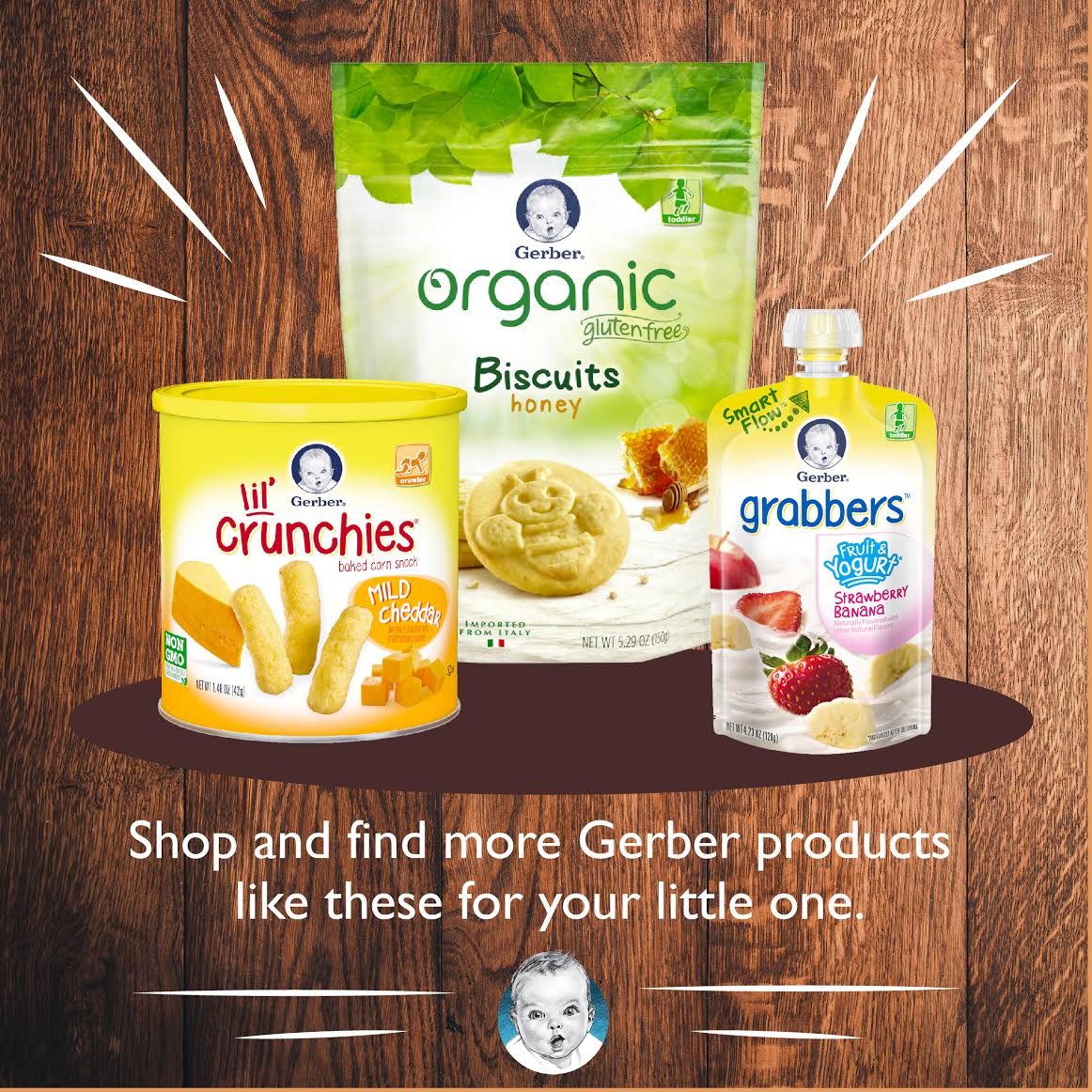 You can purchase both Purina® ONE® Dog Smartblend Chicken & Rice. and Gerber Graduates Yogurt Melts Freeze-Dried Yogurt & Fruit Snacks at your local Target.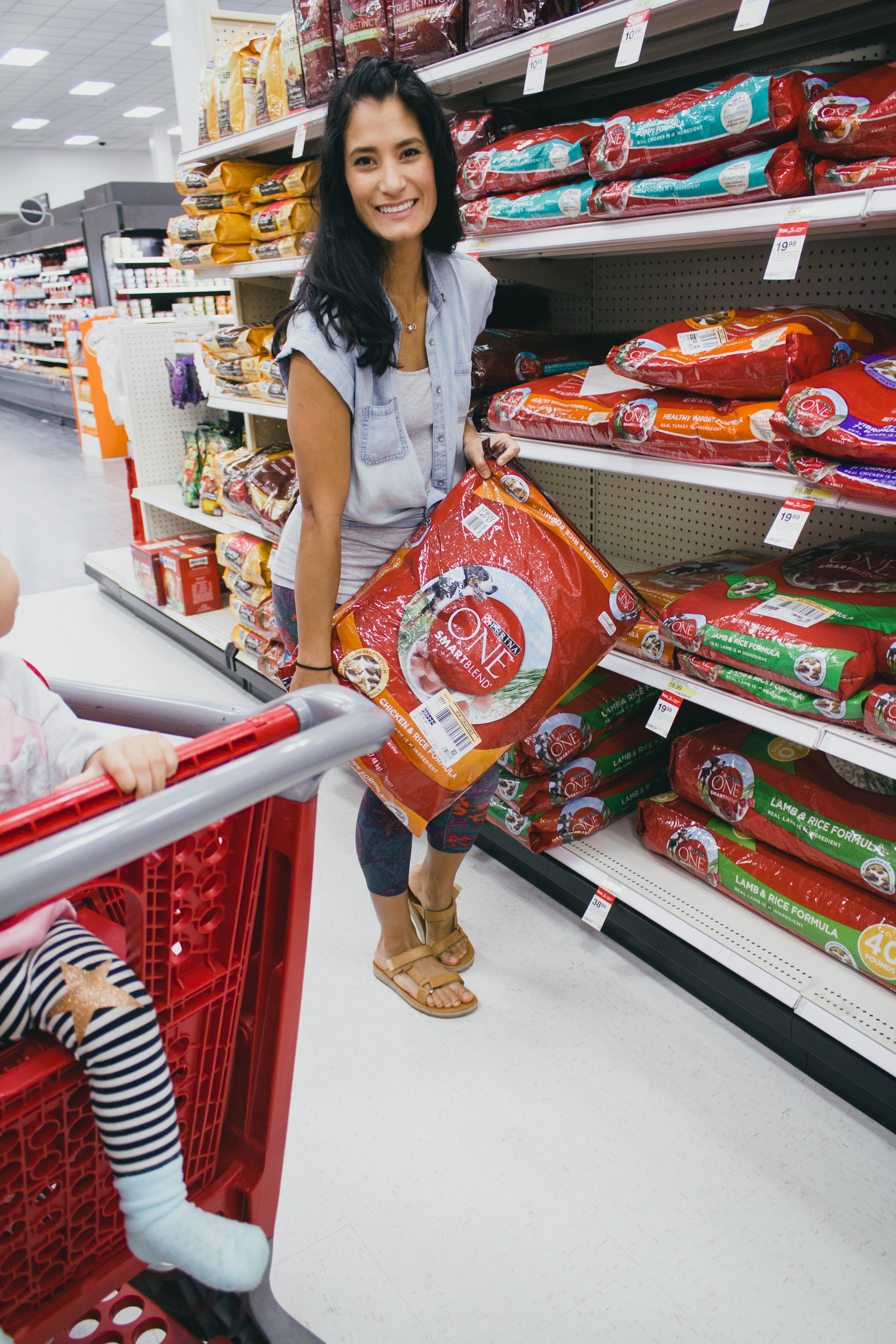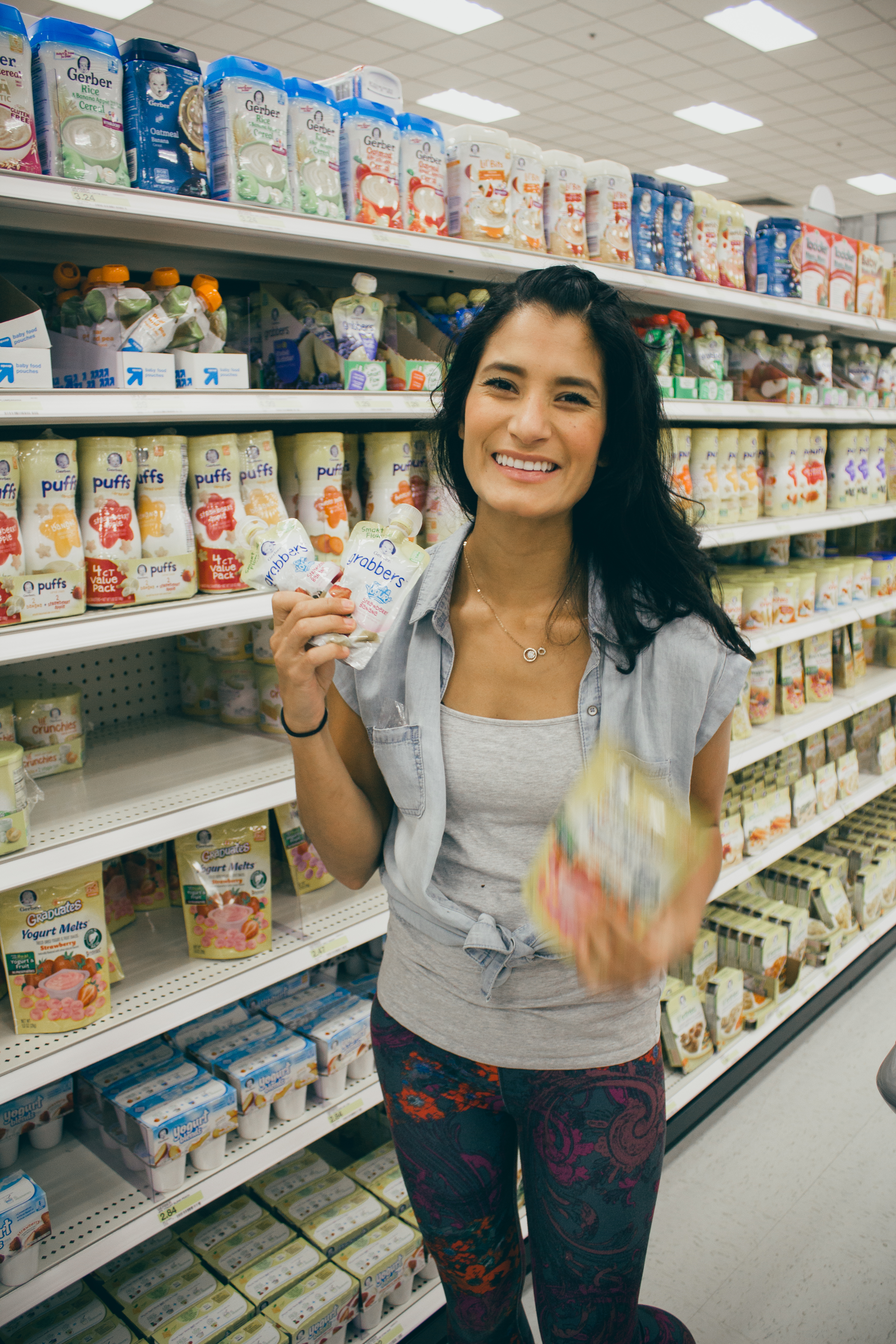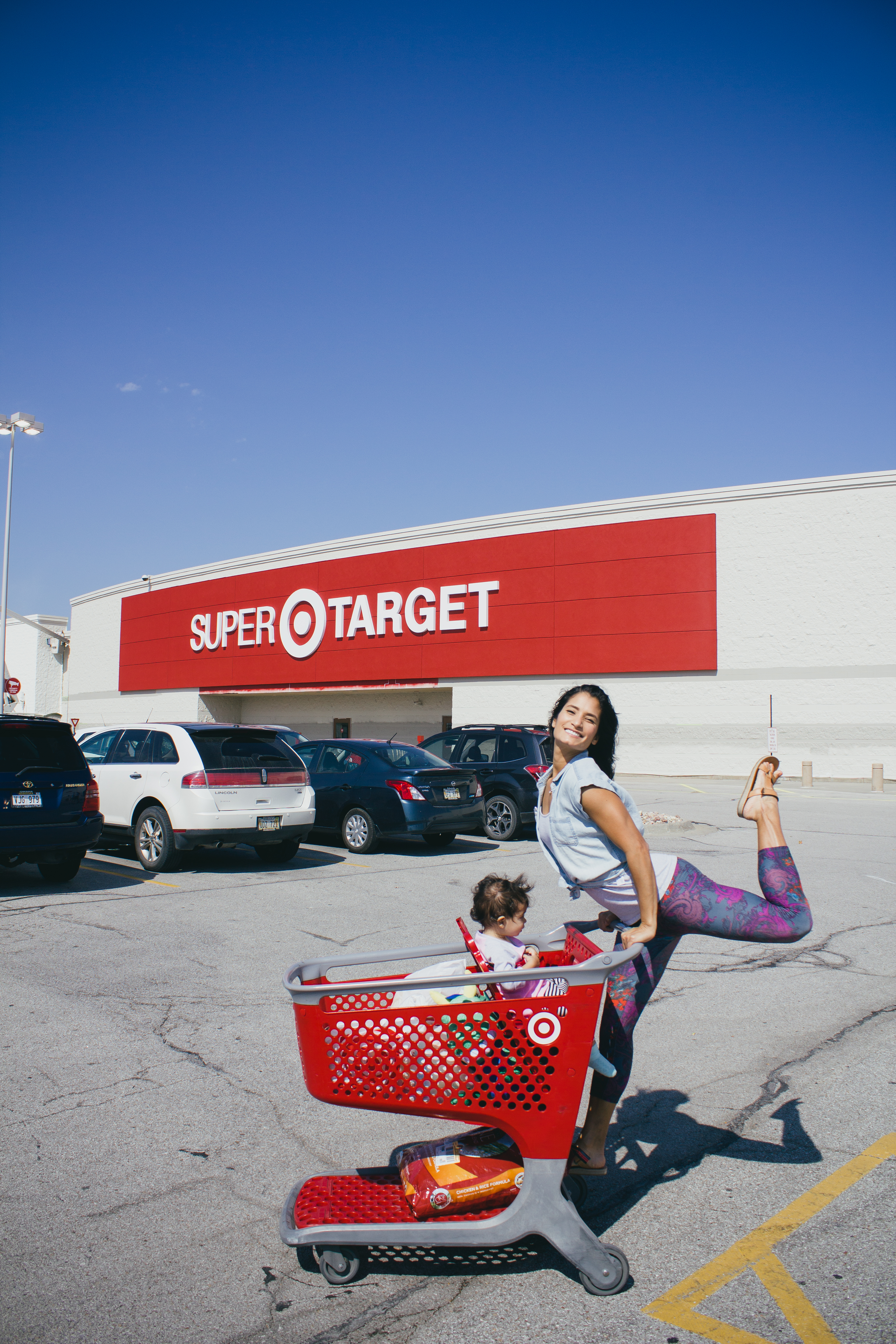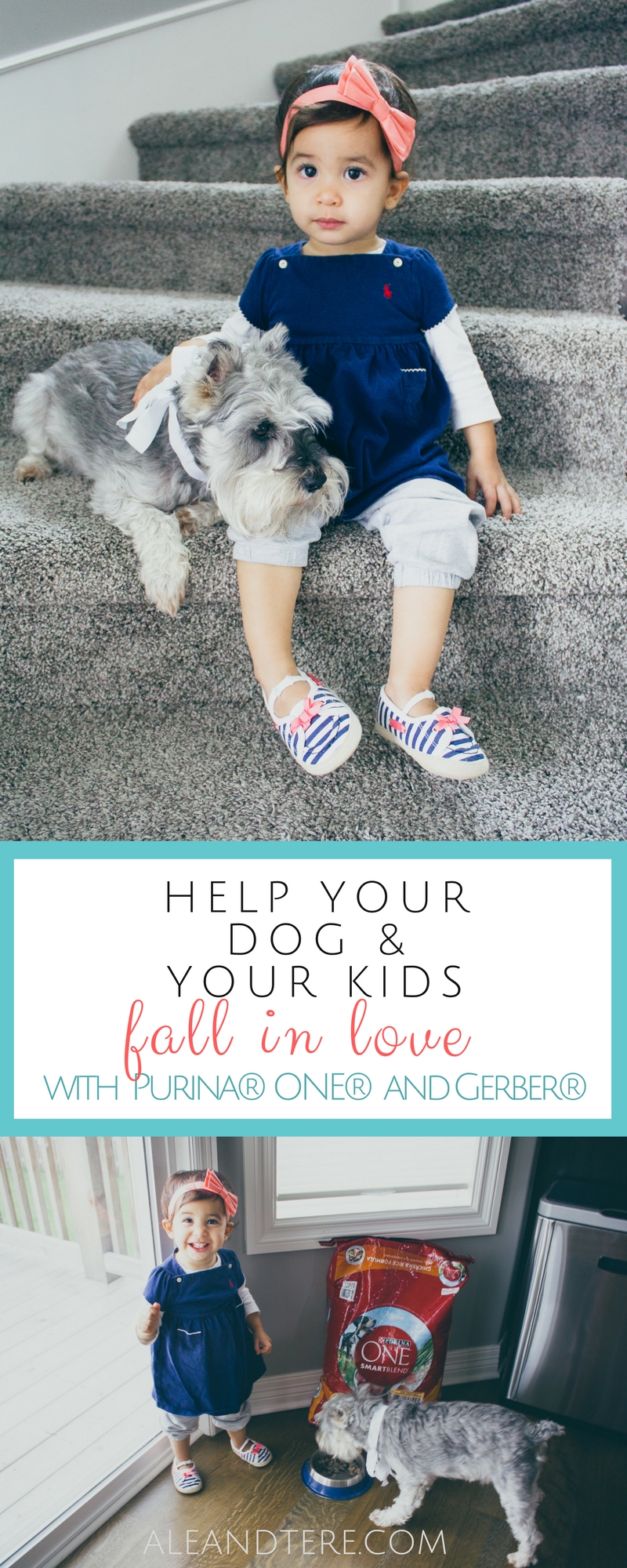 ---