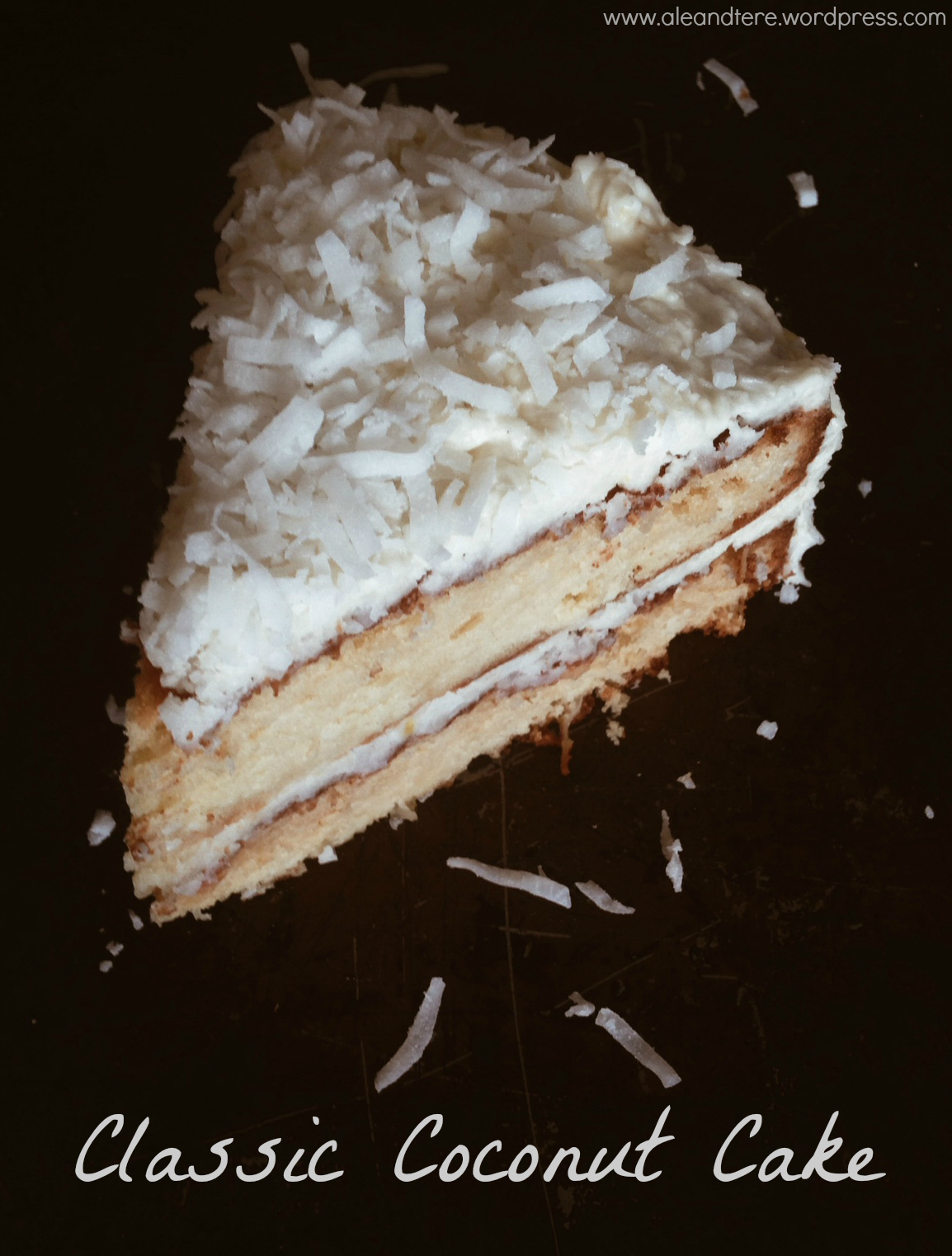 i saw this recipe last week in a magazine after an incredibly long day of school and an afternoon of errands. i was flipping through the pages, trying to keep my eyes open and then i saw this recipe for a classic coconut cake…ahhhh! it was simple looking (you'd miss it if you were looking for a picture) but i was smitten, and left with the desire to bark up a coconut cake tree. it was perfect timing too. you see… that day marked my last day of nursing school and i wanted nothing more than to sit on the couch free of the impeding doom of an upcoming test. all i could think of was curling up on the couch with a warm slice of this heavenly coconut cake and fuzzy socks on my feet. (i'm convinced that everything tastes better when you're curled up on your couch rocking fuzzy socks)
it was 8pm and i got to baking.
i have to say that it was one of the best decisions i've ever made… other than getting married and having a child (joking).  come 10 pm… i was in my happy place with this little lady and i never looked back.
so… this recipe is for my cozy-socks-wearing, couch sitting, nursing school grad friends… and for everyone else who can appreciate sitting on the couch with a slice of cake!
classic coconut cake
nonstick oil spray
2 cups all purpose flour
1 1/3 cups (loosely packed) sweetened flaked coconut
1 cup buttermilk
1 tsp baking soda
2 cups sugar
1 cup room temperature unsalted butter
5 large egg yolks (from room temperature eggs)
4 large egg whites (from room temperature eggs)
frosting
3 ½ cups powder sugar
1 8oz room temperature cream cheese
½ cup unsalted butter at room temperature
2 tsp vanilla extract
1 cup sweetened flaked coconut
directions
preheat oven to 350°F
coat two 9-inch-diameter cake pans with nonstick spray and line bottom of pans with parchment paper rounds.
mix flour and coconut in medium bowl
whisk buttermilk and baking soda in small bowl
using electric mixer, beat sugar and butter in large bowl until light and fluffy (about 2 minutes)
add egg yolks to sugar and butter mixture and beat to blend
alternate flour and buttermilk mixture (3 additions of flour and 2 additions of buttermilk) beating just to blend after each addition.
using clean dry beaters, beat egg whites and ¼ teaspoon salt in another large bowl until peaks form
add 1/3 of egg white mixture to batter and fold into batter just to blend (this is what makes is fluffy)
fold in remaining egg white mixture in 2 additions
divide batter between pans and bake cakes until tester inserted into center comes out clean (about 35 minutes)
cool cakes in pans on racks 10 minutes
run small sharp knife around sides of cake pans, invert cakes onto racks and carefully peel off parchment
cool cakes completely.
frosting
using electric mixer, beat sugar, cream cheese, butter, and vanilla in large bowl until blended
place1 cake layer, flat side up, on plate and spread with 1 cup of frosting
place second layer, flat side up on the frosted cake and spread remaining frosting over top and sides of cake
sprinkle some of coconut over top of cake and pat more coconut on sides of cake.
enjoy!!!
(recipe adapted from bon appetite magazine)