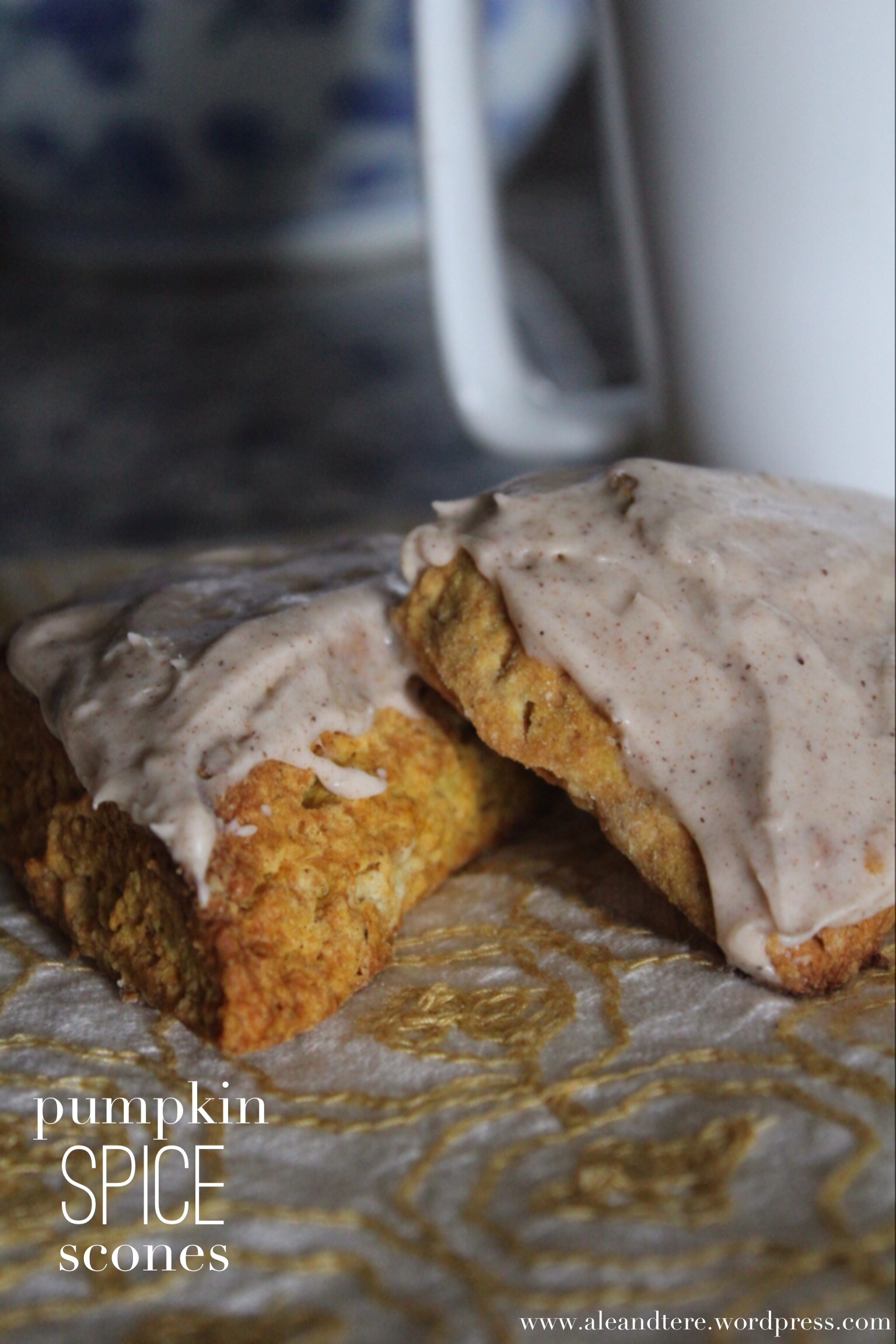 We don't see many seasons here in FL. It's usually either a hot day or a not so hot day. Nevertheless, Fall is in full swing and so are my "faux" fall traditions. During these months, I make sure to fill my home with the best aromas this season has to offer, I turn the AC a few degrees cooler and I pretend. I pretend the leaves are blushing and the temperature is anything but scorching hot. I put on cozy socks grab a cup of hot chocolate and jump on the pumpkin bandwagon. These scones help me start my day with a reminder that although we can lay poolside and tan, Fall in South Florida is what I make of it.
For the Scones:
2 cups all-purpose flour
1/4 cup and 3 tablespoons granulated sugar
1 Tablespoon baking powder
1/2 teaspoon salt
1/2 teaspoon ground cinnamon
1/2 teaspoon ground nutmeg
1/4 teaspoon ground cloves
1/4 teaspoon ground ginger
6 tablespoons cold butter, cut into 1-inch cubes
1/2 cup canned pumpkin puree
3 tablespoons half-and-half (or heavy cream)
1 large egg
For the spiced glaze:
1 cup of powdered sugar
2 Tablespoons milk
1/4 teaspoon ground cinnamon
1/8 teaspoon ground nutmeg
1 pinch ground ginger
1 pinch ground cloves
1pinch of salt
Directions:
Preheat the oven to 425 degrees F. Line a baking sheet with parchment paper and set aside.
In a mixing bowl sift together the flour, sugar, baking powder, salt, cinnamon, nutmeg, cloves and ginger and add to a food processor. Add the cold butter making sure the cubes are not clumped together. Pulse until the texture resembles coarse cornmeal, with the butter pieces no larger than small peas.
In a separate bowl, whisk together the pumpkin, half-and-half (or cream) and egg. Add the dry ingredients to the pumpkin mixture and fold until it forms into a ball. Pat out dough onto a lightly floured surface and form into a 1-inch thick rectangle about 4 inches by 12 inches. Use a large knife to slice the dough making three equal portions. Cut each of the portions in an X pattern (four pieces) so you end up with 12 triangular slices of dough. Place on prepared baking sheet. Bake for 14-16 minutes, or until light brown (watch it towards the end!!) Place on wire rack to cool.
While the scones are cooling, make the spiced powdered sugar glaze by mixing the powdered sugar and spices and milk together until smooth. When scones are cool, spread the glaze over the top and enjoy!!