WHOLE 30 – ROSEMARY LIME CAST IRON CHICKEN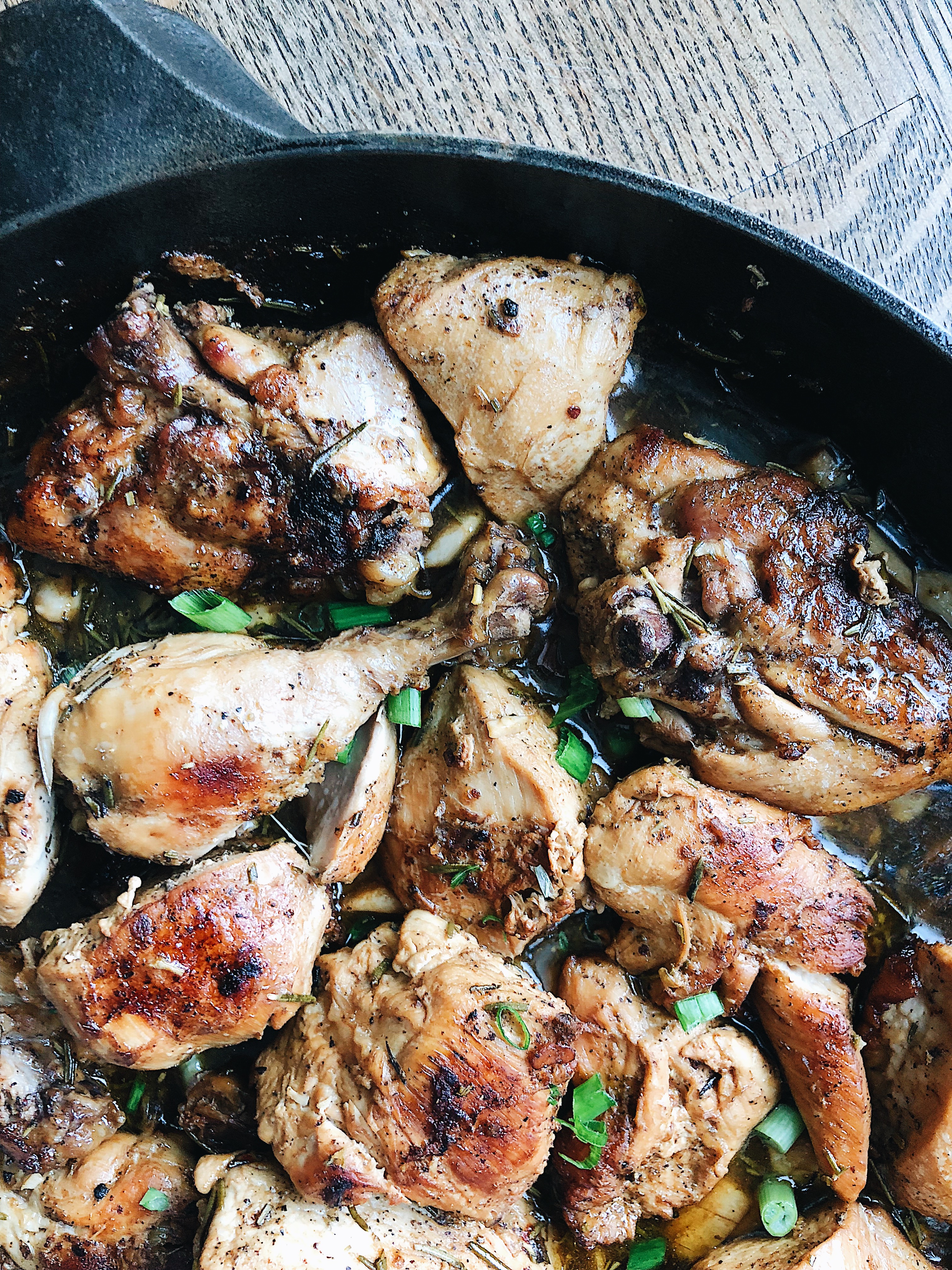 One of my favorite combinations of flavors is rosemary, lemon and garlic.  Honestly, you can combine those flavors and put it on cardboard and it will taste amazing. Today I am sharing an delicious, flavorful and crowd pleasing cast iron chicken recipe that everyone will love. This is also a whole 30, paleo approved recipe that will make sticking to a whole 30 lifestyle so easy.  If you want to step by step video, visit my Instagram highlights and you'll see how I cooked it from start to finish.

Want my 
FREE WHOLE 30 EBOOK? 
Sign up below!
WHOLE 30 – ROSEMARY LIME CAST IRON CHICKEN
Ingredients
1 whole chicken cut up into pieces- with the breast cut into thirds
1/4 cup avocado oil
1 tablespoon of salt- devided
2 tsp pepper
3 tablespoons of lime juice (about 5 limes)
1/4 cup whole 30 approved chicken stock
1 tbs arrow root flour 
4 tablespoons of rosemary (about 5 sprigs) chopped
4-8 cloves of garlic minced (depending on how much you like garlic)
1 chopped green onion for garnish
Instructions
Heat up a large cast iron skillet to medium high heat
Season the chicken with 2 tsp of salt
Add the avocado oil and arrange the chicken in one layer and cook uncovered until crispy (about 6-8 minutes)
Flip the chicken and cook the other side until crispy (6-8 minutes)
While that cooks, combine the lime, chicken stock, rest of the salt, arrowroot flour, garlic and rosemary
When the chicken is crispy, remove from the pan.
Add the lime and herb mixture and scrape the bits off the pan and bring to a simmer
Add the chicken, cover and let simmer for another 5 minutes
Flip the chicken pieces, turn off the heat and let it rest covered for another 5 minutes
Serve and enjoy!

---