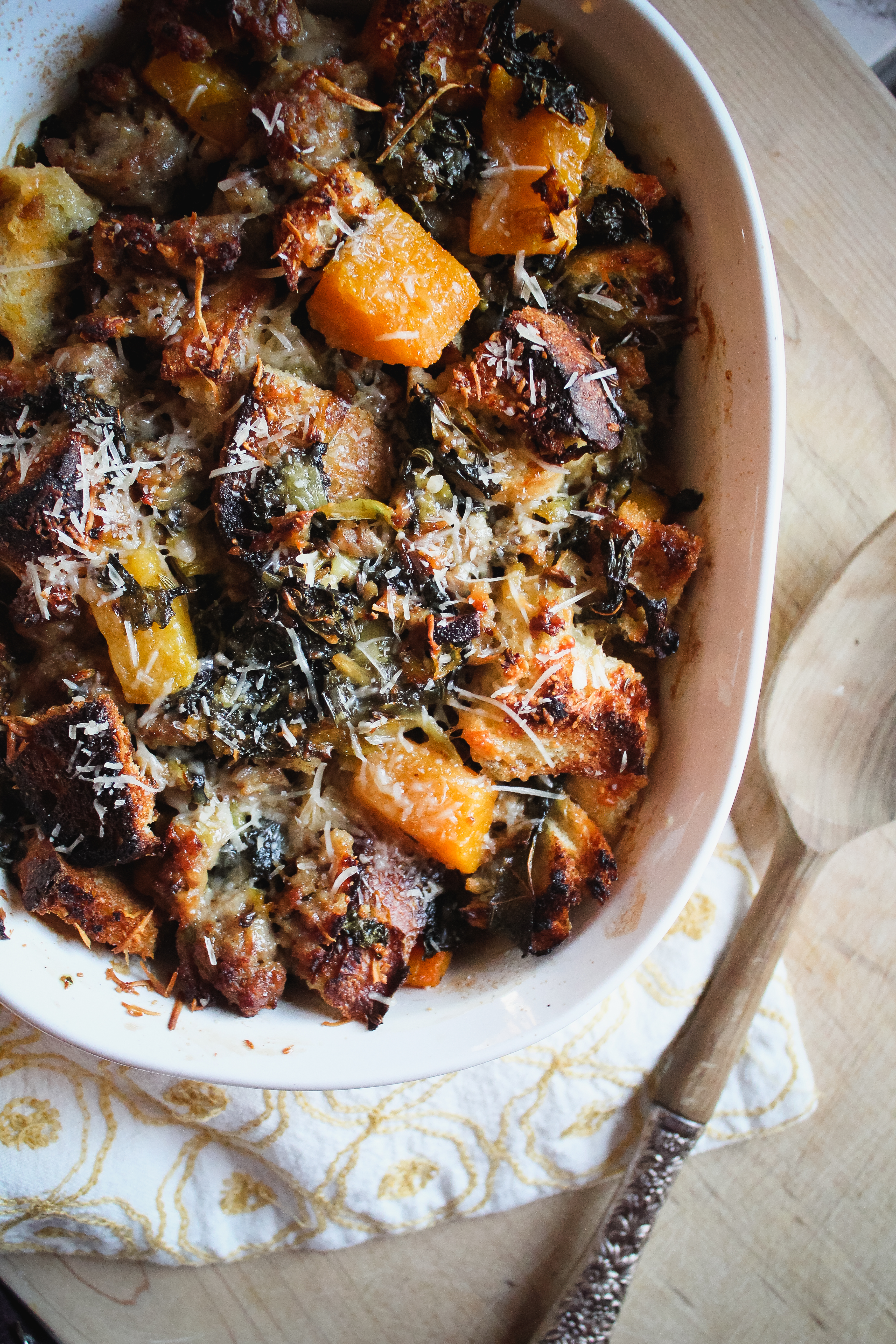 Nothing screams, "let's be friends" like a good casserole and today I am sharing my secret weapon recipe that does not disappoint.  I originally shared this recipe when I was contributing to Deeply Rooted magazine and since then, I have been making it every Thanksgiving (and whenever Alex asks for it).  This year, I had about five different people ask me for the recipe.  So in lieu of all the Christmas dinners ahead of us, and all of the friendships that will be cultivated over a delicious casserole, here's my Show stopping Casserole!
My show-stopping casserole
Ingredients
4 tablespoons unsalted butter, plus more for greasing
1 pound Italian sausage, casings removed, broken into small pieces
1 tbs fennel seeds (not needed if the sausage has fennel in it)
3 large leeks, white and light-green parts only, sliced
1/2 medium butternut squash, peeled and diced
Salt and freshly ground pepper
1 bunch kale, leaves trimmed and chopped
1 pound stale bread, cubed. I like focaccia or a baguette
1 large egg
2 cups low-sodium chicken or vegetable stock
1 cup shredded parmesan cheese, plus 1/4 cup for topping
 Directions
Preheat the oven to 350 degrees F.
Butter a 3-quart, deep casserole dish. Melt 1 tablespoon butter in a large pot over medium heat.
Add the sausage and cook until golden brown, about 6 minutes.
Add the leeks and squash and season with 1 teaspoon each salt and pepper; cook until the leeks are soft, about 3 minutes.
Add the kale, toss and cover until the kale wilts, about 4 minutes.
Add the bread cubes and the remaining 3 tablespoons butter and toss until the butter melts.
Whisk the egg and chicken broth in a bowl until smooth; stir in 1 cup of parmesan and 1 teaspoon salt.
Pour the broth mixture over the bread mixture; cook until the liquid is absorbed by the bread, about 1 minute.
Transfer the bread mixture to the prepared casserole dish.
Scatter the shredded cheese evenly on top, cover and bake for 40 minutes.
Uncover and broil the cheese on top for about 3 minutes.
Watch it carefully or it will burn.  Set aside for about 10 minutes before serving.
That's it.  This recipe is so easy and can stand alone as a lunch or dinner.  So, make it for your next get together.  I promise everyone will want to be your friend. Also, if you make it in a disposable container, you can leave any leftovers and your friends can have it the next day! They'll thank you for it.