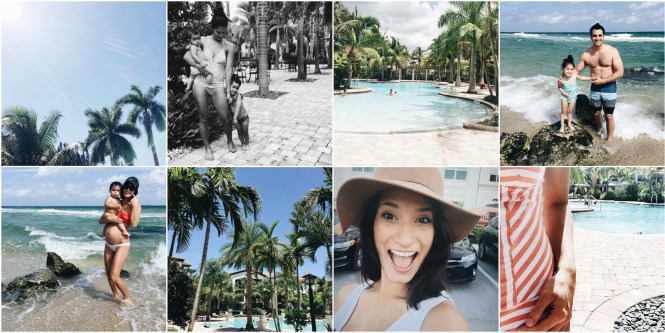 Hi!!!
I'm Teresa, the writer behind most of our posts.  I've tried quitting coffee twice (with no luck), I've given up my dreams of a spotless home, I have way too many aspirations and get absolutely no sleep. I long to be more like Christ each day and though I fail His Grace sustains me.  Also, I'm crazy about my Hottie Mc Hottie husband who I met when we were both 13 yrs old.  We have memories of doodling each other's names on our school notebooks and holding hands for the first time at an ice-skating rink. Ten years later we got married and have seen the hand of God at work throughout our lives. He has blessed us with a wonderful story, full of redemption from sin and his undeserving grace. We grew up and spent most of our lives in sunny South Florida and have recently relocated to the midwest.  Crazy!
Four years ago, we welcomed our beautiful daughter Grace Olivia, whose name is a reminder that our salvation is a gift from God (ephesians 2:8). She has filled our life with more joy that we know what to do with and our days with beautiful and wild adventures. She's the reason why we began blogging. We wanted her to have a space that she could visit and witness love documented. Our hope is that she'd see Christ's fingerprint through all of the words written, photographs, projects, and adventures.
We welcomed our second babe Haddon Alexis on January 2015. He is full of love and doesn't quite stop eating.  He is loving and cuddly and I just want to hold him in my Ergo until he's at least 23. We also welcomed our third baby June of 2016!
Our hope is that we'd point others to Jesus and that all those who visit our site would see that we are all in need of a savior (romans 3:23) and that only through Him we have forgiveness of sin (ephesians 1:7).
Ale & Tere is a work in progress but we're so excited and honored that you took the time to check it out. please feel free to contact us here:
Also, don't forget to sign up for our free newsletter!
(p.s: all of the photography on this blog is ours, unless otherwise noted)